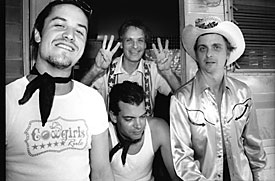 Photo Courtesy of Ipecac Records

Tomahawk redefines the sound of rock tomorrow night at the Tucson Convention Center. The group is touring in support of their self-titled debut album out on Ipecac Records.

By Adam Pugh
Arizona Summer Wildcat
Wednesday July 17, 2002

In recent months, collaborations among artists have run rampant in the music industry. The majority of these have focused on remixing albums that are less than a few years old to try to make more money off the success of the original work. But the one thing that is lacking in the majority of these collaborative efforts is originality.

Emerging from this climate of mediocrity are a few well-known artists in the world of rock that came together to form the band known as Tomahawk. The group is fronted by Mike Patton, the man notorious for everything from his beautiful howls to downright scary vocalizations, not to mention his constant love for writing weird lyrics. Patton (Faith No More, Mr. Bungle, Fantomas) along with Duane Denison (Jesus Lizard, Hank III) on guitar make up half the group, and are the brains behind the operation. This new project is a full time job for Denison, who has been writing new material for the groupâs second album.

ãWe have already been playing new songs live and they keep evolving,ä Denison said. ãAnd of course there is the odd cover here and there. The new album will be a variation of something we started off with, with some more unusual songs.ä

Denison describes himself as a composer and a music lover, which has led him to come to a few disheartening conclusions about the music industry.

ãAnyone who is not terrible is rewarding (to listen to) these days,ä Denison said.

ãItâs like after watching too much porn ö it becomes common and dull.ä

Tomahawkâs sound is aggressive and raw and stands out from most other bands that saturate todayâs music market. A market that Denison thinks is a pre-packaged nightmare.

ãGod you just listen and you realize how synthetic and shallow they are,ä Denison said.

ãWe need something more extreme right now; people are in a daze because of mind-numbing bad music. It has all turned into sound bites with generic musical backing. Itâs just awful. I am at a point, I guess, where I donât pay attention anymore.ä

One group that is paying attention to the state of music is Tool, one of the biggest and most original acts in rock today. Patton has kept in close contact with Maynard James Keenan ÷ Toolâs lead singer ÷ over the years through different projects he has worked on. This, explains Denison, is how the band was asked to go on the road.

ãThey (Tool) know Mike and Kevin from Fantomas and the Melvins,ä Denison said. ãI figure they probably just heard this album.ä

For those who have not heard the group, Tomahawk is a breath of fresh air in the world of rock music. And to help rock fans stay away from musical trash Denison says to just pay attention.

ãIt (musical trash) is obvious to those that stop and think about what they are listening to.ä

Tomahawk is opening for Tool at the Tucson Convention Center, 260 S. Church Ave., July 18 at 7 p.m. For more information call 791-4101.