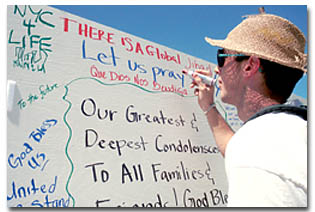 RANDY METCALF
Tucsonan Mark Bassett signs the Wall of Expression yesterday on the UA Mall. The wall was created so students could write prayers and words of encouragement.
Wednesday September 12, 2001
More than 1,000 members of the campus community gathered on the UA Mall yesterday afternoon in an attempt to begin making sense of the largest terrorist attack in U.S. history.
Terrorists crashed three hijacked commercial aircrafts yesterday morning into New York City's World Trade Center and destroyed a section of the U.S. Pentagon in Washington, D.C. A fourth hijacked plane later crashed near an airport outside Pittsburgh.
By the time the "community meeting" started at noon, most people on campus had heard of the devastation. Though the forum was unannounced, it managed to draw in students and staff as well as religious and academic leaders.
University of Arizona President Peter Likins addressed the crowd and stressed the need to avoid placing blame on a specific group.
"There are people of all nations on this campus that come to us from every corner of the world," he said. "There are no nations responsible for these crimes, which are crimes against humanity, not just crimes against America."
Associated Students President Ray Quintero agreed.
"Being that (the campus) is such a diverse community that brings together so many religious people from different nations from different beliefs, we have truly been affected by this," he said.
Those who gathered on the temporary stage near the Cactus Garden in front of the Administration building shared different feelings on the attack but managed to stay relatively peaceful.
More than 15 people spoke to the audience during an open microphone session, including Omar Shahin, the Imam and director of the Islamic Center of Tucson.
"On behalf of the Muslim community, we are extremely sad," Shahin said. "Whoever did this does not belong to the religious community. He does not belong to the believers. He does not belong to humanity."
Yvonne Merrill, an associate writing specialist in the English department, had still not heard from her niece, sister and brother-in-law -who all live near the World Trade Center - but said retaliation needs to be out of the question. No political faction has taken responsibility for the acts.
"There is a lot of hatred we have experienced today, and I don't want to repay it," she said. "I don't want to see us go to war. I don't want to hate as much as we are hated."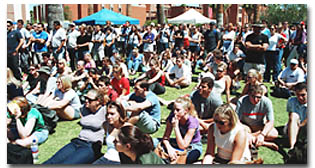 MICHAEL MEISINGER
Hundreds of students and faculty gather at noon yesterday to listen to UA President Peter Likins address the terrorist attacks on the East Coast. Several community and religious leaders also spoke at the event followed by an open-mic forum on the Mall.
Others agreed that violence should not be repaid with more violence.
"Some of the people I was talking to said, 'We can't let this go unpunished. We have to go out and do something,'" said Tucsonan Andrew Walpaugh. "Nuking them until they're glowing or going in and shooting them at night is not the answer. Look who died - innocent people who had no reason to die. They didn't go out and make a policy change to oppress another human. They went out to work, they were living their lives."
Likins said 20 to 30 UA officials met yesterday morning to plan the forum.
"I knew inside myself immediately that the campus needed to gather," Likins said. "This is a very dangerous moment."
Likins also asked students to share their grief and act out their anger in constructive ways, such as donating blood or writing on a newly built "Wall of Expression" on the west end of the UA Mall.
Written on the wall were such statements as, "This is our Pearl Harbor! Don't forget," "Fight violence and pain with peace and compassion " and "What if it was your dad? Your boyfriend? Your best friend? It was mine."
Likins called on students to be expressive but not violent in reacting to the attacks.
"The world is now a different place, this nation is a different nation because of this tragedy," he said. "And we need to struggle every way we can to avoid destructive consequences of this act.
"The challenge for all of us is that the feelings of this moment don't turn into anger."
Randy Richardson, vice president of Undergraduate Education, explained the terrorist attacks - from his perspective - as a mixture of human and political ideology.
"Today is one of those days that gets marked in our lives forever," he said.