Muslims become targets for threats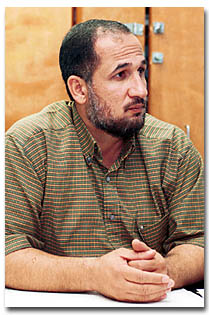 MICHAEL MEISINGER
Omar Shahin, director of the Islamic Center of Tucson, condemned Tuesday's terrorist activities saying, "We are angry at this situation just like the other Americans." Shahin offered aid to the communities affected and wanted to let people know that the Islamic religion does not approve of the destruction of any living creature.
Wednesday September 12, 2001
Attack on East Coast breeds hostility toward university's Muslim populace
Intelligence officials' suspicions that Osama Bin Laden, a millionaire Saudi fugitive, was involved in yesterday's terrorist strike are creating trouble for Muslims at the UA, said Omar Shahin, Imam and director of the Islamic Center of Tucson.
Some have been the target of threats, even though they had nothing to do with the attack itself, he said.
"We are not afraid," Shahin said. "But we do have to be careful. Crazy people have started pointing fingers at us, but we are not responsible. We are not the terrorists."
Shahin locked the doors of the ICT yesterday afternoon, and members were only letting in people they recognized.
They turned away others, concerned that people angry about the World Trade Center and Pentagon tragedies would lash out at the Islamic community.
The Tucson Police Department was also patrolling the area around the ICT to keep an eye out for any disturbances with the center or the people inside.
"I've gotten calls from the police and the FBI," Shahin said. "They told us to be careful. So far we have received two threatening phone calls."
ICT is also a school for children, grades kindergarten through seventh, and those classes have been cancelled until further notice.
Middle-Eastern Muslims in Tucson are feeling helpless, caught in something that has nothing to do with them, said Nasser Alnuaimi, president of the Muslim Student Association.
"My wife didn't go to class today (at Pima Community College)," Alnuaimi said. "She felt threatened by other students, and she wanted to take our three children out of school today, too. I felt I had to tell my neighbor, who is Christian and a police officer, that (he) should not feel threatened by me. I have no point in hurting (him)."
With some U.S. officials shifting the blame for the attack to Osama Bin Laden, Alnuaimi said he believes that problems for Muslims will escalate even though he said they just want to live as Americans.
"Every faith has crazy people," Alnuaimi said. "But (these attacks) always get blamed on the Muslims. Obviously the person who did this did it for a purpose, and there must be political gain by blaming Muslims."
But whatever political gain is to be had, Shahin said blaming the Muslim faith will not change the fact that Islam is a peace-loving religion.
"In our religion, we are not even allowed to cut down a tree or kill an animal." Shahin said. "But I can't control 1.5 billion Muslims. I don't know what kind of human could do this."
To show his concern for the victims and disgust for the attack itself, Shahin participated, as part of the Religious Council - a group of campus religious leaders - in the community meeting that took place on the mall at noon yesterday.
Shahin attempted to organize a public prayer session for the victims of the attack, but it was canceled after he decided that such a display on the Mall might be dangerous for the Muslims involved.
Mohamed Al-hajri, a systems and industrial engineering junior from Qatar in the Persian Gulf, said an American student threatened him yesterday morning.
"I was going to my (8 a.m.) class," he said. "And I heard a guy screaming near the mosque. He came up, kind of scary, and he said 'who are you?' I was silent. I am sure that if I said my name he would definitely have done something to me."
And while many Muslims are staying home and avoiding the chance of conflict, Al-hajri said he is not changing his daily routine.
"(Muslims on campus) cannot solve the problem," he said. "What happened, happened. So I will stay as I am. I will keep silent and just focus on my studies."