Nearly 300 students gather at Catholic church to pray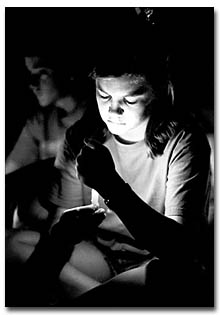 AMY WINKLER
Veterinary sciences junior Shannon McDonald paused for a moment of silence last night at the Catholic Newman Center. The center held a vigil for the victims and their families in the aftermath of the terrorist attacks upon the World Trade Center and the Pentagon.
By David Halperin
---
ARIZONA DAILY WILDCAT
Wednesday September 12, 2001
UA's Newman Center holds candlelight vigil in response to terrorist attacks
More than 300 people attended an interfaith candlelight vigil on the grass lawn in front of the Catholic Newman Center last night, in response to yesterday's terrorist attack on the World Trade Center and the Pentagon.
"We wanted to provide a place where the student community could come together," said Manny Guzman, a religious studies senior and executive board member of the National Catholic Student Coalition. "I believe it was a success."
Guzman said the University of Arizona's Newman Center joined Newman Centers simultaneously around the country including Arizona State University, Northern Arizona University, Oregon State University, the University of Delaware and the University of Minnesota-Duluth among others, to commemorate the victims and the families affected by the terrorist attacks.
The ceremony featured reassuring words from Catholic leaders, as well as songs sung by a choir and an open-mic forum that allowed students to express their personal concerns. Due to the sensitive nature of the vigil, those who chose to speak were kept anonymous as part of the format of the ceremony.
"We need to support each other, and be strong for ourselves and our country," one female student said.
"The feeling I get here with my classmates and peers shows me that God must be around us," a male student said.
Joel Simon, president of the Hillel Foundation reminded the audience that there will be a joint memorial service Wednesday at 5 p.m. on the UA Mall, presented by both Hillel and the Islamic Center of Tucson.
"This is a time when we all need to pray together," Simon said, "Tonight we are starting to love our neighbors as ourselves."
Those in attendance were amazed by the overwhelming response from the UA community.
"I think it's amazing how so many people from so many places could come together and grieve together," said family studies junior Meaghan Brown.
Father Albert Felice-Pace of the Catholic Newman Center also remarked on the outpouring of support.
"It was wonderful to see all the students here," he said. "I hope this experience of unity and caring will continue on this campus and throughout the world."
In a letter read by Felice-Pace, Tucson's Archbishop Manuel Moreno said, "Let us pray that if there is a response, it is mindful and respectful of innocent life."
One female student from New York expressed her disbelief of the tragedy when she said, "It creeps me out that when I go home, I'm not going to see those towers anymore."