JON HELGASUN
The UA football team kneels in prayer after yesterday's practice at the Arizona practice field. Head coach John Mackovic took the opportunity to help put football in perspective for his players in the wake of yesterday's events
Wednesday September 12, 2001
The UA athletic community deals with the shock of yesterday's attack
As the UA community recovers from the shock of the terrorist attacks in New York and Washington yesterday, one large part of the university - the athletic department - is having to deal with it its own way.
"College athletics, especially, is about more than winning and losing," said UA head football coach John Mackovic. "I took the time today to discuss these things with (my players) and I think it was important to do."
Mackovic and his team held practice yesterday at the normal time and for many players it was an opportunity to divert attention from the shock of the attack - even for only a couple of hours.
"I think we needed to come out here and practice today," said junior linebacker Lance Briggs after yesterday's practice. "It's easy to forget everything and get distracted playing football."
Briggs' teammate, junior quarterback Jason Johnson, agreed.
"It almost makes you feel like football is inconsequential," Johnson said. "I prayed a lot today for those people, and I'm really sad, but it was good to get out here and forget about it for a while."
Mackovic said he wanted the practice to be more than just a distraction - he wanted to take the opportunity to put the day's events in perspective.
"There are brothers and sisters that we don't even know and we hurt for them," Mackovic said. "In spite of that, we felt that there were other issues that we had to address, and that is being able to get back on the field and do some things. Hopefully this will give us some other things to work for, to better ourselves as we go about it.
"Hopefully they can learn something through this, and it will make a difference in the years to come."
Mackovic also took the opportunity to recount his memory of one of the other great tragedies in American history - the assassination of President John F. Kennedy.
"I happened to be in Raleigh, N.C. (while quarterbacking at Wake Forest) the afternoon that JFK was killed," he said. "We had a Friday night game and we played that night. I remember nobody wanted to play. Perhaps by Saturday, people will get over the initial shock (from yesterday's events) and they would be interested in continuing. Although I would suspect that many of the games on the east coast will not be played."
Apparently, the Pacific 10 Conference has decided that it would be inappropriate to continue scheduled competition.
"The safety and welfare of our student-athletes is our first priority, along with the safety of our fans," said Pac-10 commissioner Tom Hansen. "We will continue to monitor national events and directives of the federal government. Our thoughts and prayers are with everyone affected by the immense tragedy that unfolded."
The No. 3 Arizona women's volleyball team's scheduled match with No. 4 Stanford will be cancelled this weekend, as will all other Pac-10 events.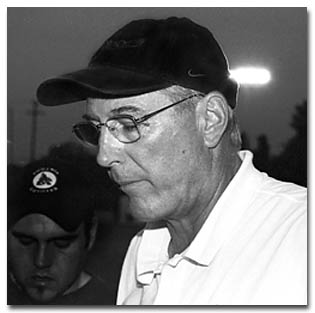 JON HELGASUN
UA head football coach John Mackovic adresses reporters after yesterday's practice at the Arizona practice field. Mackovic expressed his sorrow over the tragedies in New York and Washington.
Much like his football counterpart, UA head volleyball coach Dave Rubio decided to move forward with practice yesterday. Afterward, both coaches and players gathered around and discussed the events that took place.
Practice was concluded with a prayer that left many of the players in tears.
"I'm overwhelmed by the enormity of the situation," Rubio said. "You feel defenseless when something of severe terrorism hits so close to home. You just feel defenseless."
Rubio decided that canceling practice today would be best for the team.
UA athletic director Jim Livengood said the togetherness that many teams experience can only help student-athletes cope with such an event.
"Sports play a very insignificant part (in life)," Livengood said. "Where it can play a role is in pulling people together. It's good for our teams to lean on each other now. A good deal of our student-athletes were effected by this in various ways."
For one former UA student-athlete, Michael Wright, the events that occurred struck very close to home. The former basketball standout lives in New York while he pursues an NBA career with the New York Knicks.
Today provided some tense moments for Wright's former coach, UA associate head coach Jim Rosborough.
"Michael lives in (New York)." Rosborough said. "There was a note in my box that he had called. He is in the area, as is his uncle. Like everybody, we have some friends that live in New York. We did hear that at least he called.
"We had just finished running (yesterday) morning, and (graduate assistant coach) Josh (Pastner) called me right away. Everybody's been following. It's unbelievable. I walked into a class when Kennedy was shot, and I'm not sure, but is about a bad as anything I have heard of. It's going to shake our whole society. I mean, you are just sick for the people on the planes, in the buildings · it is frankly beyond anything we can comprehend."
It appears that UA's other varsity teams will be on hold this weekend. Besides the volleyball team, the Arizona's women's golf team was scheduled to fly out to a tournament in New Mexico, but the trip was cancelled when all other domestic flights in the United States were grounded. Furthermore, the women's soccer team was scheduled to play two games this weekend in West Virginia and Pittsburgh. Both matches have been cancelled. Finally, the cross-country team was going to open their season in Provo, Utah, against Brigham Young. That game has been cancelled as well.
"Sports will have a chance to bring people together." Livengood said. "But playing games and competition should be the last of our concerns."
- Jeff Lund and Brian Penso contributed to this report.