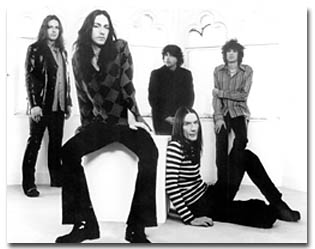 Courtesy photo
After swearing never to return to Tucson, the Black Crowes will play Centennial Hall tonight at 8 p.m.
By Kevin Smith
---
ARIZONA DAILY WILDCAT
Wednesday September 12, 2001
Despite grounding circumstances, The Black Crowes plan to rock Centennial tonight
Tickets are still available for the Black Crowes' surprise return to Tucson tonight.
In the wake of yesterday's large-scale terrorist attacks on the United States, bands such as G. Love and Special Sauce, which were scheduled to play Tucson last night, postponed or cancelled their shows.
Many fans might have wondered if the Black Crowes would follow suit for tonight's show. But according to Sherry Antonietti, a Centennial Hall box office clerk, the show is still scheduled to happen.
"As of right now (Tuesday afternoon), they are still coming," Antonietti, stated. "If they cancel the show, it will be big news."
Ed Brown, director of operations for UAPresents, organized the band's performance.
"They were supposed to fly into town, but now they're looking for an alternate form of transportation (from Los Angeles)," he said.
"The Black Crowes" will play Centennial Hall for the band's "Listen Massive Tour," in support of the band's latest album, Lions. Show time is 8 p.m.
The fact that the Crowes have played more than 1,200 shows since their inception in 1990, back when today's freshmen were still trying to find out how exactly to get to Sesame Street, is a testament to the band's popularity and consistency.
Tonight should be no different.
The Black Crowes will play Tucson tonight for the fourth time in their career, though they once swore never to play here again.
However, Centennial Hall will welcome back Chris Robinson on lead vocals, Rich Robinson on lead guitar, Steve Gorman on drums, Eddie Harsch on keyboards, Audley Freed on rhythm guitar, and the new bassist Andy Hess.
Of the three shows the Crowes have played here, one stands out in infamy.
The first show the boys played was back on June 13, 1991 at the Old Exhibition Hall Community Center. Nothing stands out too much about this show except it was backed by the strength of the band's first album from 1990, Shake Your Moneymaker.
During that year, at any given time, one could turn on the radio and hear the chorus, "Hey little thing let me light your candle, 'cause mama I'm so hard to handle now," from the single "Hard to Handle."
Show number two occurred May 2, 1993 at the Tucson Community Center. This show promoted the band's 1992 second LP, Southern Harmony & Musical Companion. The stand-out, smash single off this album was the song "Remedy," which though not attached to a failed soap opera, did just fine breaking into mainstream airwaves.
Six years passed before the band decided to swing back into town, and this time they ditched their string of past community center gigs, and moved on to an actual theater.
The Rialto Theater hosted the Crowes on December 11, 1998, and that was the infamous show during which the band decided never to return to Tucson.
According to various fans' accounts posted on the Black Crowes' official fan site, "The Crowesbase" at http://gfg.tierranet.com/croweinfo.html, the band was putting on a great show until they decided to do an encore set. The encore song, "She Talks To Angels" was going well until two Crowes fans jumped on stage and tried to grab Chris's microphone.
Security eventually took the fans away. After getting a new microphone, the band belted into another song. "Hard To Handle" started out fine, until another fan threw a beer bottle at Chris and hit him directly on the shoulder. Chris stormed off stage and his brother, Rich, asked the man who threw the bottle to come on stage for a beating. That was the end of the show. Crowes fans left angered at the drunken fans who ruined their show, and the Crowes vowed never to return to Tucson again.
Brad Nozicka, a spokesman from Cal Productions, said the Crowes wanted to play in Tucson, but perhaps in a different setting than the sometimes-rowdy Rialto.
"They wanted to play the university in a comfortable and safe situation," said Mr. Nozicka, referring to the smaller and more intimate atmosphere that Centennial provides.