Demolition of tower temporarily leaves UA without clock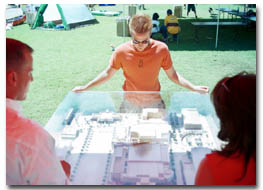 RANDY METCALF
Assistant project manager Gilbert Davidson and executive assistant Lisa Wakefield explain the model of the new Memorial Student Union Center to undecided freshman Michael Hulse yesterday on the UA Mall. Along with giving information to students, Davidson has aided in resurrecting the clock in the new student union.
Tuesday August 21, 2001 |
Arizona Daily Wildcat
Clock tower to retain its clock, bell and dedication
The demolition of the Memorial Student Union clock tower will eventually lead to a bigger, better and more correct timepiece.
Although the old tower and gears to its clock are gone, UA officials said they have plans for the four faces of the not-so-accurate timepiece.
"The old clock never worked correctly, and we couldn't find the parts to actually fix it, so we're planning to keep two of the faces, but the parts inside will be all new," said Gilbert Davidson, UA's senior program director in charge of business affairs.
A bell recovered from the ill-fated USS Arizona navy vessel will still grace the new tower, and a new structure will honor the ship, as well. The USS Arizona sank during a Dec.7, 1944, attack by the Japanese at Pearl Harbor, Hawaii.
"A stone wall will curve through the center courtyard area of the union to resemble the side of a ship," said Christopher Kraft, project manager for University of Arizona Facilities Design and Construction. "The two clock faces will be on either side of the front portion of the ship."
Kraft said the interior of the tower will house the USS Arizona's bell and will be open from the east and west sides.
"This will actually allow people to see the bell, something the old tower never allowed," Kraft said.
Officials explained that the demolition of the old union weakened the foundation of the tower.
"We really wanted to keep the old tower, but without the old building foundation, it couldn't stand on its own, and it would have been too expensive to reinforce," Kraft said.
Dan Adams, director of Arizona Student Unions, said the new location will be an improvement.
"The new tower will continue the tradition of the university and will also place the bell of the USS Arizona in a more prominent location," he said.
The old student union and clock were dedicated on Nov. 17, 1951, to the members of the UA community who gave their lives in World War I and World War II. The bell from the USS Arizona is rung every year during the first week of December to commemorate the ship's final battle.
Although completion of the tower and remaining portion of the union is scheduled for December 2002, the yearly bell ringing will still take place on the Sunday before the anniversary of the Pearl Harbor attack.
"Although the bell is currently in storage with Facilities Management, we have the ability to bring the bell out whenever we need it," Adams said.