New classes at Rec Center still come with minor cost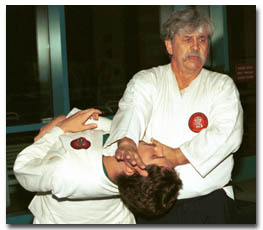 ERIC M. JUKELEVICS
Aikido instructor Gail H. Skinner (right) demonstrates the fluid movements of a martial art form known as Aikido with Micah Bickford, a senior majoring in French, during the Student Recreation Center's open house last night. Skinner teaches regular classes at the Rec Center as well as a studio in Oro Valley.
By Maggie Burnett
---
ARIZONA DAILY WILDCAT
Tuesday August 21, 2001 |
Arizona Daily Wildcat
Improved fitness schedule expected to draw more students
As part of its fall program, the staff at the UA Student Recreation Center is updating its fitness schedule - but not without a small student price.
In addition to the 60 or more classes already offered through the center, Brian Carswell, associate director of Campus Recreation, said the center has added several new yoga classes to the current fitness curriculum.
"This year there are at least three new offerings in classes," Carswell said. "(We added) a yoga class called Bikram Masala. That is a type of Hatha yoga specifically designed to increase flexibility."
Along with Bikram, a class called Kryia yoga - a class that emphasizes stretching - is also being offered at the center.
"Bikran is the newest (yoga class) we're offering this semester," Hamlen said. "It's a 'hot' yoga class - you do it in a hot room and we want to keep it a 'hot' item at the rec. But, the temperature is turned up and when you're in a class like that, you need to be dressed appropriately and drink plenty of water."
But these classes are not offered for free.
"For non-credit instruction, people have to sign up and there is an extra fee," Sarah Hamlen, the center's fitness coordinator, said. Other non-credit courses include martial arts, aquatics, dance, several outdoor adventure classes, sport classes and certification courses such as life-guarding and CPR.
Due to the growing popularity of yoga classes in the area, Hamlen said both herself and her assistant Jeanne Missey did have to look outside the student body in order to hire new yoga instructors.
"Jeanne has tapped into the yoga community in that she participates in yoga herself very consistently," Hamlen said. "She made connections with people in Tucson who are established here as yoga personnel or in the yoga community so to speak."
A general group fitness pass costs $45 for the semester. Non-credit courses - those not included in the general fitness schedule - have been priced according to activity. Specific prices can be found on the center's Web site, http://campusrec.arizona.edu, or in pamphlets located at the center.
"I'm hoping and I'm sure Jeanne is hoping people are going to participate and take advantage of (classes) being offered at the Rec and just jump in there and go with it," Hamlen said.