Cats, coaches try to stay cool despite heat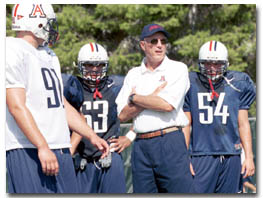 ERIC M. JUKELEVICS/ Arizona Daily Wildcat
UA head coach John Mackovic talks with players during practice Aug. 4 on campus. Unlike former head coach Dick Tomey, Mackovic has implemented a training tent and enforced new policies in an attempt to cut back on heat-related health problems. ]
By Maxx Wolfson
---
ARIZONA DAILY WILDCAT
Tuesday August 21, 2001 |
Arizona Daily Wildcat
Players and coaches realize dangers of high temperatures
The Arizona football team tried something different last night.
Instead of holding the usual afternoon practice, head coach John Mackovic started practice at 7 p.m. The practice lasted until 9:30 p.m.
"Wow, the players really love this," said Mackovic, referring to playing under the lights. "I don't know what the temperature is right now, but our guys think it is just wonderful."
Even though Mackovic has decided to play under the lights only once a week, the break from the heat is definitely something the Arizona players look forward to.
"It's a lot cooler," senior offensive lineman Steven Grace said. "It makes it a lot easier to practice at night."
While the high temperatures were not cited as the main reason for the switch to practicing at night, it definitely is in the back of the players' and coaches' minds.
Soaring temperatures across the nation and the problems they have created for football players have given Pacific 10 Conference players a little more to think about when they step on the practice field.
"It's definitely a wake-up call to players," Arizona State senior center Scott Peters said. "Guys need to know their bodies well enough to know that you need to stop and tell somebody if you are feeling dizzy or lightheaded."
The recent deaths of football players at the high school, college and professional levels have caused players and coaches to worry more about the heat.
"I think coaches are always going to be pushing players," Grace said. "Now with the news about all of the football players that have died, I think they might realize that they can't push the players too hard because they need them on the field."
Arizona State head coach Dirk Koetter agreed.
"We should have already been looking out for that," Koetter said. "I think it's a wake-up call to coaches everywhere to say to a player that it's OK to slow down."
The Arizona football team had a scare of its own two weeks ago when senior defensive tackle Anthony Thomas had to be rushed to the hospital after a midday jog to try to lose weight rendered him unconscious.
It took nearly 15 bags of intravenous fluid to return Thomas from severe dehydration.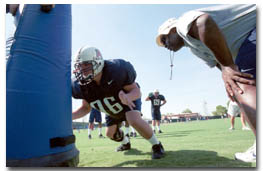 ERIC M. JUKELEVICS/Arizona Daily Wildcat
Defensive lineman Matt Lam hits a blocking sled during practice earlier this month on campus. Lam and other UA players are taking steps to help avoid heatstroke and other heat-related medical emergencies, according to Wildcat trainers.
While Thomas was lucky enough to return to practice last week, Minnesota Vikings offensive tackle Korey Stringer was not as fortunate.
Stringer, an All-Pro selection last season, died as a result of complications from heat stoke after a practice at the Vikings training facility during training camp one month ago.
At Camp Tontozona, ASU's summer training camp in Flagstaff, Peters said that a player collapsing during practice is not that uncommon.
"Every year during our workouts, at least one guy will fall or stumble and kind of have to stop," Peters said. "That is not good. I can't believe a player could get to the point where he could die from it."
Though the 293-pound Peters said he has never had a situation where he collapsed, he has had many of the symptoms of heat stroke.
"I have been to the point where my skin feels chilly and I felt dizzy," Peters said. "When you get cold sensations, you get goosebumps and you seem dizzy, blurry and confused. That's the point where you need to tell someone. I have been there a few times."
UA trainer Matt Radelet said he will hold a player out of practice if the player loses eight pounds and will not let him back into practice until he feels the player has fully recovered.
"There have only been three to four players that have complained of problems so far this year," Radelet said. "That's a pretty low number."
This season, the Wildcats have added a training tent and super-chilled fans to help keep the players' temperatures down.
"They have added a lot of new stuff this year that has really helped," Grace said. "It's a good thing."
Both Grace and Peters said the most important factor in preventing heat stroke and dehydration is to drink water.
"I drink about four gallons of water each day," Peters said. "I learned that whatever I do off the field effects the way I play on the field."
Grace agreed. This season, each UA player has been forced to carry around a water bottle at team meetings and throughout the day.
"I try to drink as much Gatorade and water as possible," he said. "It is always important to drink as much water (as possible) the night before a game."