Men's volleyball seeks title, fan support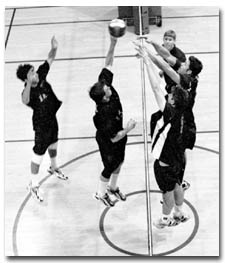 File photo/ Arizona Daily Wildcat
Members of the UA men's club volleyball team compete in practice last year at Bear Down Gym. The Wildcats are winners of three of the last four National Championships and should compete for another title this year despite what head coach Steve Carlat said is little fan or media support.
Tuesday August 21, 2001 |
Arizona Daily Wildcat
Wildcats chase third title in four years
The UA men's club volleyball team just might be the best team nobody's heard of.
Last season, the Wildcats began the season ranked No. 1, rolled through the regular season and came a fiercely contested third game from capturing their third-straight national championship.
The 2000-01 squad went 45-3 against non-NCAA Division I teams, claimed their third consecutive Mountain West Volleyball Conference title, and finished runner-up at the National Intramural-Recreational Sports Association Tournament.
The Wildcats lost former NIRSA Tournament MVP Vince Rooney and standout Nick Thompson to graduation, but head coach Steve Carlat expects young talent from last year's team to step up.
"We have four starters returning and four others with significant playing time from last year," Carlat said. "We're going to be one of the better teams in the country, for sure."
The Wildcat rookies aren't exactly inexperienced, either. The developmental "B" team took third place in last year's NIRSA DIII tournament and won the DIII championship in 2000.
Senior setter and club president Jeff Grobe has high hopes for the 2002 season.
"We have a lot of returning players and some really good recruits coming in. I'd say we definitely have a good chance (at a title)," Grobe said.
Arizona will be led by a core of experienced players, including MWVC Most Valuable Player and NIRSA All-Tournament team honoree Grobe, as well as outside hitters Matt Olson and Kevin Jones, both of whom garnered All-MWVC honors last year. Carlat said he also expects Scott Ogilvie, an incoming transfer student from Long Beach State, to assume a leadership position.
However, the head coach said he wasn't expecting much fanfare this season. While the UA women's volleyball team - a Division I program - thrives less than a block from the men's home court at the UA Student Recreation Center, the men's team struggles to draw close to the same crowds as the ladies do to their home matches.
"We don't get any recognition on campus or in the community," Carlat said. "But if we can advertise and get the word out, I'm sure we can draw a few hundred (fans) to each game. There are thousands of people in Tucson who love the game of volleyball."
Men's club volleyball tryouts begin tomorrow at 6:30 p.m. at the Student Recreation Center.