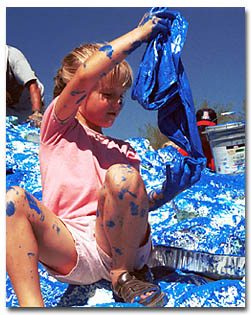 DAVID HARDEN
Six-year-old Amy Cranford watches as paint drips from the rag she used to help paint "A" Mountain yesterday morning. Cranford, along with approximately 70 volunteer students and community members, painted the "A" red, white and blue in remembrance of Tuesday's attacks.
Monday September 17, 2001
Students and locals join forces to send a patriotic message
The Harris family never misses church, but yesterday, standing atop "A-Mountain", they felt this particular Sunday called for a different kind of service.
Lisa Harris, along with her husband and two young daughters, was one of more than 70 Tucsonans and University of Arizona students who teamed up yesterday morning to paint "A-Mountain" red, white and blue - a patriotic tribute to the country after Tuesday's terrorist attacks in New York and Washington, D.C.
"We're just trying to do what we can to support the victims back East," Harris said, her hands and cheeks covered in blue paint. "We just want them to know we love them; and God loves them, and the country will get through this."
Sarah Burns, a speech and hearing sciences senior, organized the project. She came up with the idea of painting the "A" after hearing late last week that Arizona State University painted its "A" red, white, and blue.
Burns said she only had Friday afternoon to organize the event. Home Depot donated more than $1,000 worth of paint; Osco Drug and Target pitched in water bottles, and Tucson Parks and Recreation waived the normal mandate for an insurance policy for groups painting the "A".
After that, it was just a matter of getting the word out. And looking up at the dozens of helpers painting under the 90-degree, scorching Tucson sun, Burns was pleased with the turn out.
"I think people felt they wanted to do something," she said. "This gave them a chance to do that."
Jessica Bortolini, a communication senior, was one of the first in line to paint, and she wasted no time hiking to the top of the "A".
Pouring gallons of red paint over the rocks that make up the giant letter, Bortolini felt that after a week filled with terror, she could let out her grief in a positive way.
"Its neat to see this many people," she said, standing at the tip of the peak looking down. "We're so far away. We can't fly out to New York. I just want to show how America's united."
Leland Hogan, a construction worker, helped Bortolini spread the paint over the rocks with an old T-shirt.
"We're just working with strangers to get something done," Hogan said. "That's what America is about."
After about an hour, the normally white "A" morphed into a symbol of unity and freedom, echoing the waving American flags - nearly absent a week ago - which suddenly sprung up across the nation.
"People felt like there was nothing they could do," Burns said. "Don't get me wrong. I know this won't change the world. But I believe people brought their feelings here today and did something good."