Hispanic Heritage celebration turns into attack memorial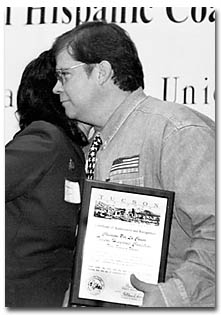 DAVID HARDEN
Council member Fred Ronstadt congratulates Lorraine Lee of Chicanos Por La Causa, in recognition of excellence amd service to the Hispanic community last night. Lee and others were recognized at the Tucson Hispanic Coalition. which was held at the Tucson Convention Center.
Monday September 17, 2001
Hispanic Coalition mourns victims, celebrates beginning of a new era
Members of Tucson's Hispanic Coalition turned their celebration of Mexican independence into a partial memorial service for those who died in Tuesday's terrorist attacks.
While singing, lighting candles and giving donations, the Coalition used Friday evening at the Tucson Convention Center to honor the victims.
"It was supposed to be a celebration for Hispanic Heritage Month," said Alex Roderigo, committee member for the Hispanic Coalition. "But now we're not interested in that. We shifted the focus of the event to be an affirmation of the dedication to the community by all Hispanic Groups."
Changing the purpose of the event was a difficult decision to make because the celebration had been planned one year in advance, Roderigo said.
"We weren't sure whether to cancel or not," said committee member Marty Cortez. "We didn't want to be perceived as being insensitive to what has happened, but on the other hand, this celebration is supposed to honor those who are working to improve our country.
"But we thought there is so much good that is going on in the world that we had to recognize it, especially in this time of evil. And people need to know and feel confident that we, as a community and country, will persevere."
Twenty-nine Hispanic organizations, including the League of Mexican-American Women, the University of Arizona's Society of Hispanic Professional Engineers and the UA bilingual education department, were in attendance.
Seven groups also received awards in recognition of the good examples they had set for the community, Roderigo said.
The awards went to Chicanos Por La Causa, the Hispanic Women's Corporation, the League of United Latin American Citizens, Nosotros, the UA Hispanic Alumni Association, Reforma Tucson Chapter and Borderlands Theater.
"(The recent events) make you think about your identity," software systems engineering senior Fabian Duarte said. "As a Mexican-American, you think about your past in Mexico, but you also think about your future in America and how you should be proud to be an American and try to support the president's decision."
To inspire American pride, a mariachi band performed patriotic songs and played "The Star-Spangled Banner" at 7 p.m. while guests lit candles with the rest of the nation in memory of Tuesday's victims at the World Trade Center and the Pentagon.
Roderigo, who used to work in the Pentagon but left months before the attacks, lit two candles symbolizing the victims of the catastrophic attacks, many of whom he knew.
"(The attacks) affect us as Hispanics because we live in this country," said Cathy Martinez, a business sophomore. "We come to America for better opportunities so we can have better lives here. They make us wonder how safe or how secure we actually are. (Our safety) is in jeopardy not just for Hispanics, but for everybody."
Even though the Hispanic Coalition members' frame of mind centered on the tragic impact of the attacks, Fred Orozco, president and CEO of the Tucson Historic Chamber, said conducting a celebration was far from what they felt was right in their hearts.
"We don't dampen our spirits," Orozco said. "We celebrate them, because this is a beginning for something else. People don't realize that Sept. 16 was Mexican Independence Day - not because that's the day (Mexico) won the revolution, but that's the day it started. So what we're doing, even if it is on a somber note, is celebrating this new beginning for everybody."