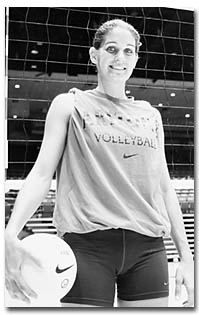 JON HELGASON
Senior outisde hitter Jill Talbot poses with a volleyball in McKale Center over the weekend. Talbot, who wasn't heavily recruited out of high school, has become one of the most reliable players on the UA women's volleyball team.
By Brian Penso
---
ARIZONA DAILY WILDCAT
Monday September 17, 2001
Talbot strives for team, not personal success
When one thinks of UA superstar athletes, athletes such as Jason Gardner, Bobby Wade, Dana Burkholder and many others come to mind.
Rarely will senior outside hitter Jill Talbot be mentioned in the same breath.
Although the senior is not perceived to be an All-America-caliber volleyball player because she never leads the team in kills or assists, Arizona head coach David Rubio said Talbot is one of the nation's best volleyball players.
"She is a big-time player who I think is one of the best players in the country," Rubio said. "I can't say enough about her. I have always said that I would not trade her for anyone, and that statement still holds true."
To many volleyball critics and fans, stardom is based on stats and personal accomplishments. A "consistent" player - one who is reliable and rarely has a bad game, yet never seems to be the best player on the court - is looked upon as a team player instead of a star.
For the No. 3 UA women's volleyball team, Talbot defines teamwork and unselfish play.
As a senior, Talbot said she realizes her role on the team, and is not concerned with her individual stats.
"My role on this team is to be a leader with a sense of consistency (so I can) execute in times when the game is tight," Talbot said. "I have to go out and compete and bring my teammates with me. The more consistent I am, the better our team is going to be."
Currently, Talbot is first on the team with a 2.53 digs per game average, fourth in kills with 2.73 per game and third in hitting percentage with a .470 average.
When recruiting Talbot - who said she wasn't offered many scholarships from other schools - Rubio said he knew she would bring something special to Arizona's volleyball program.
"There was something when I recruited her that told me she was special as an athlete and a person," Rubio said. "She was not a very good player when I recruited her and there were a lot of things about her that other coaches were shied away from. For me, I loved aspects about her and I knew that she had such a good heart and she would come in and become the player I envisioned she would be, and she has."
---
Jill Talbot
Number: 32
Height: 6-0
Position: Opposite side hitter
Year: Senior
Hometown: San Diego, Calif.
High School: Mt. Carmel High School
Achievements: 2000 NCAA Central Region All-Tournament Team
2000 Honorable Mention All Pacific 10 Conference
Third in Pac-10 in hitting percentage (.366)
Hit .500 in UA's four NCAA Tournament matches

---
As a freshman, Talbot received honorable mention freshman All-Pacific 10 Conference honors.
During her sophomore season, Talbot led the team with 285 digs and 41 service aces, but she was passed over for any postseason accolades.
However, that changed her junior year, when she was named to the 2000 NCAA Central Region All-Tournament team. She was also honorable mention All-Pac-10 and All-Academic Pac-10.
"Every aspect of my game has gotten better since my freshman year," Talbot said. "I have learned a lot about the game each year, and that has translated into me becoming a better player. I have become a player that understands situations and that allows me to make educated decisions on the court."
Talbot credits a lot her success to Rubio's coaching.
"Rubio is a great teacher," Talbot said. "I have learned all aspects of the game from him. Everything I thought I knew when I came here was irrelevant. He taught me how to play the game of volleyball. The good thing about him is that he cares so much for every player on the team."
On the court, Talbot credits a lot of her success to senior pre-season All- American setter Burkholder.
"I interact real well with everyone on the court, but playing with Dana for the past three years has been great," Talbot said. "We keep each other in check on the court because we both play on the same side. I see things on the court and tell Dana and she does the same for me. We have a lot in common and we have mutual respect for one another and we are both really intense players on the court."
Arizona's offensive attack this season is focused on the left-side hitters, juniors Lisa Rutledge and Shannon Torregrosa.
Talbot's consistent play on the right side of the court allows the left-side hitters to have better attack opportunities because defenders have to be aware of both sides of the court.
"Jill brings so much to our team," Burkholder said. "When Jill is at the top of her game, it opens up the court for everyone else. For us to be successful, we need her to continue to play well because it allows our other hitters better opportunities."
With Talbot's UA career coming to an end this season, Rubio said he is going to miss this senior much more as a person than as a player.
"She has a great disposition with a funny way of looking at things," Rubio said. "One thing I love about her is that she is so bright - very even-keel and logical. I am really going to miss her next year because of the personality that she provides the team."