Mackovic says friend, president 'great' in handling American people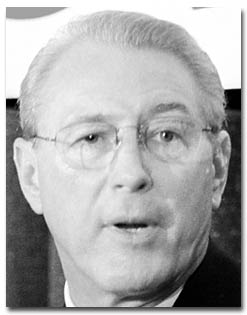 file photo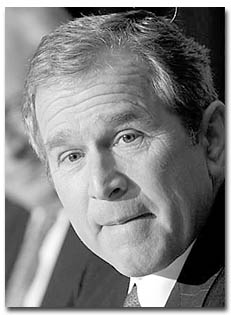 Associated Press
UA head football coach John Mackovic (top) and U.S. President George Bush (bottom) struck up a friendship when Mackovic was the head football coach at the Universty of Texas and Bush was governor of Texas. Mackovic said the two first met when they were both rehabbing injuries at UT.
Monday September 17, 2001
UA head coach John Mackovic knows he likely won't be needed if the United States takes military action against terrorism, but he said to his team he wouldn't hesitate to help President Geroge Bush out if he asked.
That's because Mackovic met Bush while coaching at the University of Texas.
"He used to come to the university to work out," Mackovic said. "He had knee surgery (in March 1997) and he had cartilage removed and I had a bad hip. So he and I would work out and ride bikes together. We would talk about all kinds of things."
During a team meeting Tuesday that was aired on ESPN's "The Season" over the weekend, Mackovic told the players about his willingness to aid the President if needed.
Sophomore safety Clay Hardt said he was impressed by his coach's comments.
"I thought it was pretty respectable of him to say that," Hardt said. "I don't think a lot of people would do that. I didn't think that a lot of people would have that kind of relationship where they would consider doing that."
UA senior safety Brandon Nash agreed.
"He is a very good man who is willing to put his life and career into something that he believes in," Nash said. "I think that coach has a duty to his longtime friend."
Mackovic is no stranger to the military. In 1967, Mackovic was the coach of the U.S. Army basketball team in Fort Knox, Ky.
He then left the Army to become the coach of the freshman football team at the U.S. Military Academy in West Point, N.Y., in 1968. After a stint as the offensive coordinator at San Jose State, Mackovic traveled back to the U.S. Military Academy to become an assistant coach in 1971 and 1972.
Mackovic and Bush's relationship started while the head coach was at the University of Texas and the future president was governor of Texas.
"I was invited to the Governor's (Mansion) a couple times for dinners and I attended," Mackovic said. "So I saw him at those kind of events. He is a real good sports fan."
Mackovic said he was supportive of the commander in chief when he was governor.
"I always felt he was very genuine and had a really warm personality," he said. "He was also someone who understood what he wanted done and how he wanted to get it done, and the people of Texas saw that in him and his leadership in a governor. The people in the country will see that in him as well."
Mackovic said he was touched when he saw Bush speaking to rescue workers Friday in New York.
"He was great," Mackovic said. "That's really where you see him at his best, in a situation where he can get out among people. He was really neat the way he talked to them and connected with them."
Although the two haven't spoken since their Austin days, Mackovic said that Bush has handled things well since Tuesday's attack.
"I think that the less said the better, and that's probably exactly the right thing to be doing," Mackovic said.
Mackovic said he expects things to back to normal today.
"It will be a short period of time before everyone gets back into the swing of things," Mackovic said. "I would expect that most schools and professional teams are going to back to work (today) and put things together quickly so that they can play well this weekend."
The players said they think it's time to get back to football.
"I think that our team as a whole just wants to get on the field," Hardt said. "You don't have to worry about that stuff when you're playing ball."
Nash said he expects things to get back to normal on the field today.
"What happened Tuesday was a disaster," he said. "We have taken time out of our life to acknowledge the tragedy. Just like that, the world must go on and we must go on."