'Once Upon a Midnight Dreary'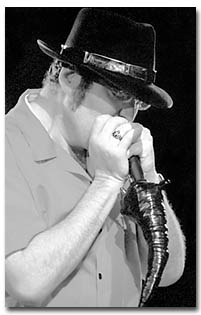 KEVIN KLAUS
Tad Kinchla, bass player for Blues Traveler, performs in front of sold out crowd on Friday night at the Rialto. The setlist included songs such at the Star Spangled Banner, and Imagine in an effort to uplift peoples hopes about the future of America after the terrorist attacks.
By Ryan Finley
---
ARIZONA DAILY WILDCAT
Monday September 17, 2001
Blues Traveler 'Bridges' tragedy with 4-hour show
It's hard to fault Blues Traveler for feeling "Pretty Angry" Friday night.
In the past two years, the band completely restructured, adding two new members while enduring the death of the group's original bassist, Bobby Sheehan, of a drug overdose.
To make matters worse, the New York-based band watched helplessly - as most of America did - when the World Trade Center was destroyed by terrorists Tuesday.
"A lot of my friends were in the building," said Tad Kinchla, the band's bassist since April. "People have been e-mailing me since then just to say 'I'm OK'. As of now, my friends are all accounted for."
Playing on feelings of sadness and anger, the band proceeded to put on a comprehensive, driven show in front of a sold-out crowd Friday at the Rialto Theatre downtown.
The show started with lead singer/harmonica guru John Popper's solo rendition of "The Star-Spangled Banner" before the newly thin frontman bounded into two New York-inspired songs, "Manhattan Bridge" and "New York City Prophesie."
Popper then slid into a rendition of John Lennon's "Imagine" before returning to the band's standards, which included tracks from its new album, Bridge.
The album features both the poppy - "Girl Inside My Head" and "Back In The Day," - and the heartbreaking.
"Pretty Angry," a plea from Popper to Sheehan written after the bassist's death, moved Friday's sold-out crowd to wave lighters in the air. Some fans cried as they sang along to Popper's tribute.
"'Pretty Angry' is John's answer to (Sheehan's death)," Kinchla said. "It's a cathartic thing. It's still pretty difficult to play as a band "
Popper's lament that "I want to shout from my guitar/come out, come out, wherever you areˇYou let me go/you let me down," was the crowning emotional moment in the show.
The second of Blues Traveler's sets - the band performed for nearly four hours - was less emotional but as inspired as the first one.
The band treated the crowd to favorites - "Felicia," "Run-Around," "Go Outside and Drive," and "Business As Usual" - and popular covers, including Beck's "Loser," The Violent Femmes' "Blister In The Sun," and Bob Marley's "No Woman, No Cry," and the song's simple refrain of "Everything's going to be all right."
The second set seemed to be the band's chance to jam. Tad Kinchla, guitarist Chan Kinchla, drummer Brendan Hill and keyboardist Ben Wilson all had their chance to shine, often while Popper watched from the stage, a cigarette hanging out of his mouth.
Popper wasn't left out of the jamming, either. The still-imposing frontman wailed and whistled his way through "Go Outside and Drive," often taking a break from playing the harmonica only to sip water from his makeshift on-stage command center or light a cigarette.
Kinchla - who spent more than a decade as a fan while his brother, Chan, was the band's lead guitarist - said the group's new dynamic allows the band members a little more freedom on stage.
"I've become a part of the band just by helping build something," he said. "While making 'Bridge', they let me write and contribute. Now we have a whole new bag of tricks. There's more of a texture to the music, but - in a way - it almost takes up less room and less space."
The highlight of the emotional evening might have been Popper himself, who has shed more than 200 pounds in the past two years and now more closely resembles his slim, 20-something bandmates following "stomach-stapling," a radical medical procedure used on the morbidly obese.
"There's more energy there," Kinchla said. "At the end of the show, he's upbeat. With all that weight, if you have another 200 pounds on your back, you're pretty tired. He has a new self-confidence and body image.
"Anyone who is that size and suddenly has a body ˇ it makes him feel good about himself and other people."
How different does Popper look? Kinchla said the band was able to hang out in a university-area bar Thursday night without being noticed.
"It was cool being down by the university scene," Kinchla said. "We went to Gentle Ben's. The university area seems like the place to be."
Kinchla said once Popper puts on his trademark hat - a black porkpie with harmonica's surrounding the brim - the frontman instantly blows his cover.
"It's the hat, man," Kinchla said. "If he has the hat on, people recognize him. If not, he's not necessarily going to be recognized."