Rescuers grow frustrated as search continues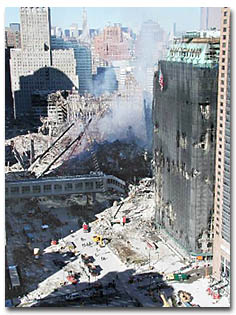 Associated Press
Workers continue to remove rubble from the site of the World Trade Center collapse yesterday. Both towers of the World Trade Center collapsed after a terrorist attack on Tuesday. The Empire State building rises from midtown Manhattan, left of center.
By Associated Press
---
ARIZONA DAILY WILDCAT
Monday September 17, 2001
NEW YORK - With each passing, fruitless hour, the men and women who combed the wreckage of the World Trade Center grew more frustrated yesterday, their hopes of finding survivors dashed at every turn.
Ed Kester, a firefighter from Engine Co. 313 in Queens, said when searchers found personal items among the rubble, their hearts quickened with the possibility that a living person might be nearby.
"It gives a hint like eyeglasses, pocketbooks, Palm Pilots," Kester said, as he peeled off his suit a few blocks from the site at the end of an eight-hour shift. "If we find stuff, we bring dogs in to sniff around. It was a letdown. The dogs didn't pick up on anyone."
The city released a partial list of victims Saturday, and Mayor Rudolph Giuliani said 180 people had been confirmed dead, 115 of whom had been identified. Eighteen city firefighters were among the confirmed dead, including two top officials. The total number of missing was raised to 5,097.
The mayor said reports of tapping from the wreckage were unfounded, that no signs of life had been detected.
"It was very somber," said Jim Kasey, 35, a credit card fraud investigator from Yardley, Pa., who picked through debris by hand, filling buckets that were passed along a line of as many as 100 volunteers.
Kasey, who used to be a volunteer emergency medical technician, said he longed to hug his two children when he first laid eyes on the pile of Trade Center carnage.
"I came because it's the right thing to do, 'cause if your family was in here, you'd want me, and people like me, here too."
Giuliani said the grief-laden city was pushing ahead plans to reopen much of downtown Manhattan today with a new service, a ferry carrying passengers between Brooklyn and Manhattan.
"This could be the most jarring event in American history ... so there's every reason to understand why people are going to be very traumatized or very upset by it, but the best way to deal with it is to try to get back to normal," he said.
It was easy to see why rescuers were numb. Among the grisly finds at the site was a pair of hands, bound together, found on a rooftop. Another was the torso of a Port Authority police officer, identified by the radio still hanging from his belt.
Police Commissioner Bernard Kerik said the tally of the missing was increased because more reports had been received, both from outside the city - 1,200 reports were filed with police departments in the region and by family members reporting to a Manhattan crisis center.
Among the missing were two federal agents, one with the FBI, the other with the Secret Service.
The Fire Department, in the worst tragedy since its first engine companies were formed in 1865, lost about 300 members in the Trade Center carnage and planned to announce 168 promotions at a ceremony yesterday. Chief of Operations Daniel A. Nigro was to be promoted to Chief of Department, and Assistant Chief Salvatore J. Cassano was to be promoted to Chief of Operations.
Laid to rest Saturday were Chief of Department Peter Ganci, and William Feehan, the department's first deputy commissioner.