Officials urge Muslim students to remain calm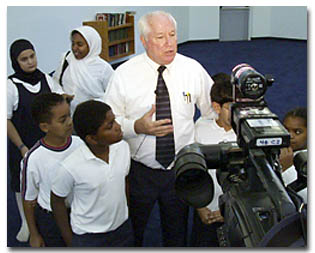 RANDY METCALF
Arizona Congressman Jim Kolbe visits the Islamic Center of Tucson at 901 E. First St. yesterday afternoon, assuring the safety of Muslims in the community. "Bigotry and discrimination against race and religion is not something we will tolerate," Kolbe said
Wednesday September 19, 2001
Another student leaves after his parents are spooked by ASU attack
Congressman Jim Kolbe, R-Ariz., said yesterday that the safety of the UA Muslim community is a top priority for state and local leaders - especially after a handful of students from the Middle East decided to return to their home countries.
"Bigotry and discrimination against race and religion is not something we will tolerate," Kolbe said at the Islamic Center of Tucson, 901 E. First St., where he gave a speech yesterday to reassure Muslim children of their safety.
But for one student from the Middle East, Kolbe's statement wasn't enough.
Taher Taher, a mechanical engineering freshman, said he is dropping his classes at the University of Arizona and returning home.
Taher will be the fourth student to return to the Middle East due to backlash from last week's terrorist attacks on the World Trade Center and the Pentagon.
The terror of the attacks hit close to home Thursday morning when a Muslim student at Arizona State University was assaulted on campus.
Khalid Al-hamadi, a systems engineering senior, said although the attack was not in the Tucson area, the mention of an assault occurring in Arizona was enough to terrify his family in Qatar.
Kolbe said because Muslims are in fear of persecution after last weeks attacks, citizens should be available to aid in their protection.
"Just because a person dresses a different way doesn't mean they have to worry," Kolbe said. "People need to stand up at this time and be counted."
UA President Peter Likins, FBI, University of Arizona Police Department and UA Dean of Students officials attended a discussion with Muslim students at the Islamic Center later in the afternoon.
Likins spoke to reassure Muslim students of their safety on campus and in the community.
"I cannot guarantee your safety, but this community will not abandon you," Likins said.
Likins expressed sympathy for Muslim students and their parents but asked them to stand strong.
"I hope you won't allow fear to take away from this precious opportunity to learn," he said. "If you still choose to leave, we at least want you to leave us as friends."
Likins added he wanted the students who still want to leave to return next semester.
FBI agent Ralph Diaz spoke with students on how he and his agency could be of greatest benefit to them.
"The FBI is dependent on getting info from the public, so we're only as successful as you want us to be," he said.
Omar Shahin, director and Imam of the Islamic Center, spoke about the admiration he and his wife received after going in public for the first time.
"As we walked around, people congratulated and praised us," he said. "When my wife and I returned home, she told me she now has hope."
Some Muslims raised questions about the FBI pointing fingers at all Muslim people in the search to uncover suspects of the attack.
Diaz said the FBI holds no bias. He compared the situation to the treatment of Italian-Americans in the Northeast during the 1940s when the Italian mafia ran rampant. Although it may seem that way, he said the FBI cannot afford any bias, otherwise it would be unable to effectively carry out its mission to find the suspects.