Students more in tune with news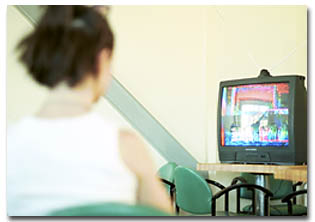 RANDY METCALF
Undeclared freshman Rita Stageman watches the news Sept. 11th as terrorists attacked the World Trade Center in New York City. Since the recent attack, more students say that they are tuning into television to find out about world news.
By Amy Maltby
---
ARIZONA DAILY WILDCAT
Wednesday September 19, 2001
Attacks increase awareness of international affairs
Tom Brokaw, Dan Rather and Peter Jennings have been on UA students' television sets much more frequently in the eight days since the attacks on Sept. 11, and many say that pattern is not likely to change soon.
Jenny Arrington, a veterinary sciences senior, said before the attacks, she did not pay attention to international news much at all.
"I was too involved in school. It didn't really pertain to me·at least I didn't think it did," Arrington said.
Many students expressed similar sentiments.
"I'd say I watched (international news) about once every two weeks," said Libby Navarro, an undeclared sophomore.
Now, Navarro said, she watches television coverage of the attacks and related reports whenever she's home.
"This last week has clued me in to everything," said Joey Unger, a geography senior. "Now I'm more interested (in international news)."
Still, Unger said he had only a vague knowledge of the United States' primary suspect in the attacks, Osama bin Laden.
"I knew he was linked to the other World Trade Center bombing (in 1993)," he said.
Nate Marshall, a psychology senior, said he was also unaware of the scope of bin Laden's organization.
"I had heard the name," he said. "I knew he was involved in terrorism. Not much beyond that. I'm sure I'll pay a little more attention now."
Robert Chamberlain, a music performance freshman, said that although he was aware of bin Laden's involvement in the 1993 bombing which killed six people, he did not anticipate that another terrorist act would occur on American soil.
"I knew (bin Laden) had a gripe with American culture, but not to that degree," he said. "This kind of dumbfounded me."
Chamberlain said his news consumption is up from less than one hour per week to at least two hours per night. He said he also keeps up on story developments by checking several news Web sites throughout the day.
Several UA students remarked upon the unexpectedness of the attacks on Sept. 11.
"I didn't think the U.S. was even susceptible (to terrorist acts) because we're such a large power," Arrington said.
Michael McCauley, a communication junior, said he hadn't thought about terrorist activity in the United States since the 1993 bombing. He said he had never imagined "anything of this magnitude" would be possible in the United States.
"Basically, I thought terrorism was just threats," McCauley said.
Navarro agreed.
"I knew that (terrorism) was a world risk, but I wouldn't have expected it to happen in the U.S. at all," she said.
Navarro said she plans to pay more attention to not only news about the attacks, but also to international news on the whole.
"Obviously, other countries can affect us. I didn't realize that before," she said.