UA students may be called to serve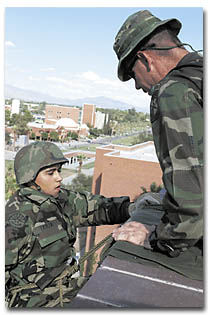 AMY WINKLER
Master Sgt. Richard Klein guides electrical engineering freshman Keith Taylor in a ROTC repelling exercise off the CBS building yesterday afternoon. Staff Sgt. Arvinzu, from the U.S. Army Recruiting office at 2302 E. Speedway Blvd., said the number of students visiting local recruitment offices has increased significantly since the attacks.
By Cyndy Cole
---
ARIZONA DAILY WILDCAT
Thursday September 20, 2001
Number of students visiting recruitment offices up
UA students in the Arizona Army National Guard and Reserves may be called out of classes to serve, recruiting officials said.
The possibility of recruitment comes in light of President Bush's announcement that the National Guard and various branches of the Reserves would be called to respond to the attacks on the World Trade Center and the Pentagon.
However, University of Arizona officials remain closed-mouthed about how many students, faculty and staff are enlisted in the Arizona Army National Guard or the Reserves.
Cathy Nicholson, director of Employee Relations, said the UA would certainly be affected by the temporary absence of those in the campus community who are called to serve.
But gauging to what degree military involvement will affect the university will be difficult because the UA cannot ask whether employees are enlisted part-time in the armed services on documents such as job applications, Nicholson said.
The UA Human Resources office has received 10 inquiries about benefit and leave packages from faculty and staff either already enlisted or considering enlistment.
Military spokespeople, citing security reasons, did not release the number of National Guard or Reservist personnel on the UA campus.
In the days since the attack on the World Trade Center and Pentagon, the number of UA students visiting Tucson recruiters has jumped, said Staff Sgt. Arvinzu of the U.S. Army Recruiting office at 2302 E. Speedway Blvd.
"There's a lot more interest right now, and there are a lot more (UA students) signing up," Arvinzu said. He said he has had seven UA students visit his recruiting office in a week, compared to two in the eight months before the attack.
While reservists and Army National Guard students may be called to leave UA classes, it is far less likely that students with upperclass academic standing will be asked to leave than their underclass counterparts, unless they specialize in highly-demanded field, a reserve recruiter said.
However, ROTC students will not be asked to leave the UA for any reason, Maj. John Crump said.
ROTC students who commit to joining the service, usually those in 300- and 400-level ROTC-taught classes, sign an oath that commits them to completion of college and military service after graduation. These students are not enlisted in the military during their time in classes at the UA.
Currently, 512 UA students are enrolled in 300- and 400-level ROTC-taught classes such as military aerospace, military science and naval science, said Tom Rhodes, principal research specialist with the Department of Decision and Planning Support.
Those ROTC cadets who have signed the oath committing them to service after graduation have three options: They may go directly to active duty, wait for a school opening and then become active, or become reserves.