Student clubs missing out on funding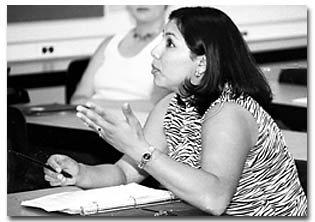 JON HELGASON/Arizona Daily Wildcat
Pre-business freshman Vanessa Gallego, who represents M.E.Ch.A, requests funding from ASUA during a meeting last night. M.E.Ch.A. is a resource group that promotes cultural heritage and language for Chicano students and staff.
By Cyndy Cole
---
ARIZONA DAILY WILDCAT
Thursday September 20, 2001
Several clubs have still not applied for needed money, ASUA senators say
ASUA approved more than $3,000 in funding for 25 university clubs at its meeting last night.
The clubs that received the funding were those that attended the club recognition ceremony earlier this year. However, many clubs have yet to apply for their funding, Sen. Jessica Patze said.
Clubs may apply for initial funding - generally between $100 to $200 for start-up costs and recruitment - throughout the academic year, Patze said.
The Associated Students of the University of Arizona went ahead and approved initial funding for the clubs that had already applied, an amount totaling $3,319.04.
But attendance at this year's club recognition ceremony was low, as were the number of requests for initial funding, Patze said. Clubs that have not yet applied for funding must go through a longer appropriations meeting than clubs that already applied for and received money.
Movimiento Estudiantil Chicano de Aztlán, one of the clubs to apply for funding, received an $800 spending limit from ASUA, though the amount exceeded the $200 initial funding rule.
Members of MECHA. will use the money to pay for a conference for UA freshmen and local high school students. The conference is aimed at making the transition into college easier for high school students and giving college students scholarship information and contact with diverse cultures on and off campus. The club expects 300 high-school students and UA freshmen
While MECHA recognizes cultural diversity on campus, ASUA senators will join the Women's Resource Center and UAPD for a week to honor women.
At "Women's Awareness Week," tentatively scheduled for Oct. 15-19, women can don sumo-wrestling costumes and step onto a mat on the Mall. Female bands will perform during the week and the festivities include speakers from the University of Arizona Police Department and the Oasis Center.
"It's all very pro-female and empowering," said ASUA Sen. Gloria Macias.
The week was originally designed as a kick-off for free self-defense classes offered by the Women's Resource Center, but was expanded. Employees at the WRC said they hope it will be a week condemning violence against women.
Attendance of self-defense classes was low last year, but Macias said she hopes the awareness week will increase attendance at this year's classes, which will be offered in October.
ASUA's next meeting will be Wednesday at 6 p.m. in room 411 of the Modern Languages building.