Students help apprehend 2 car thieves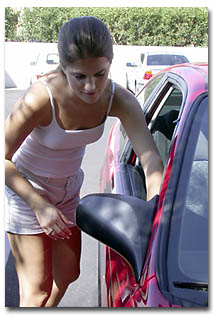 AMY WINKLER
Biology sophomore Molly Engelhard picks up pieces of glass from her car at Kappa Kappa Gamma sorority yesterday afternoon. Engelhard said she returned to her car Tuesday night to find its window had been smashed, though nothing was stolen
Thursday September 20, 2001
Police say the situation was "textbook"
Police apprehended two minors Tuesday who were seen breaking into vehicles on campus. The officers were assisted by students who witnessed and reported the crimes and positively identified the suspects.
Police officials said the two minors were breaking into cars in a parking lot north of the Kappa Kappa Gamma sorority, 1435 E. Second St., when a house member witnessed the crime and called police.
"This is exactly what we want people to do," said Sgt. Michael Smith of the University of Arizona Police Department.
Police officials said theft is the biggest crime on campus and students should keep prevention in mind. Police are unsure whether the suspects are linked to the numerous other vehicle break-ins on campus.
Reports stated that two cars were reported to have smashed windows and numerous items missing, including a CD player and a makeup case.
The witness, who was leaving the sorority to meet a friend, observed two males standing near a vehicle in the lot.
As the witness walked toward them, the suspects fled toward the west end of the parking lot in their vehicle, where there is no exit. The suspects then drove by the witness again, which was enough for her to see the driver and the vehicle's license plate number.
"Don't make your vehicle a target," Smith said. "Leaving things like CDs, CD players and money all make the car look really enticing."
Smith said belongings inside a vehicle should be hidden at all times when parked anywhere on campus.
Smith also praised the quick thinking of the witness who saw the incident.
"What's really good about this incident is it was seen and reported immediately," he said. "It's a textbook situation,"
The information on the license plate enabled police to locate the home of the suspect who was driving. When UAPD confronted the suspect at his home, he confessed and gave police the name of his accomplices.
All belongings were returned to the victims.