Opponent Analysis: A 'Rebel'ion in Arizona Stadium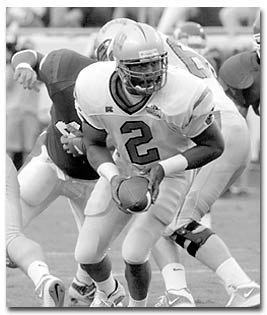 Associated Press
UNLV quarterback Jason Thomas hands off the ball during the Rebels' game against Arkansas earlier this season. Thomas, a preseason All-American, has not lived up to expectations through his team's first two games this season.
By Kamy Shaygan
---
ARIZONA DAILY WILDCAT
Thursday September 20, 2001
UNLV could be tough for undefeated Arizona
The University of Nevada, Las Vegas will enter Arizona Stadium Saturday evening with one thing in mind - to win its first game of the season.
While the Rebels are winless in two games, UA head coach John Mackovic said they are a much better team than their record shows
"UNLV will be the best of the three teams that we have played to date," Mackovic said. "They are very athletic, they move well, they challenge you, and they have good size and speed. They return many talented players on both sides of the ball, and they have one of the most athletic defenses that we have seen."
The Rebels (0-2) opened their season on the road, losing 14-10 to an Arkansas team that wasn't even able to convert one third-down opportunity in 15 attempts.
UNLV junior quarterback Jason Thomas set a school record that no quarterback wants to have - he finished his night completing only four passes in 16 attempts for a miserable 40 yards and three interceptions.
"He had a nightmare game in Arkansas," UNLV head coach John Robinson said. "For some reason - moisture or whatever - he just couldn't grip the football. He almost went the entire game without throwing a spiral, let alone a completion. It was just an awful night for him."
It appeared, despite Thomas' poor performance, the Rebels had the game locked up in the fourth quarter, but a late scoring drive by the Razorbacks propelled Arkansas to victory.
The following week, UNLV had better success on offense but still was unable to shut down the Northwestern attack en route to a 37-28 loss.
Thomas had a much better game than his first, setting a new career high in passing yards with 304.
"We've played parts of games very well, but we have lost two games - at least one of them (against Arkansas) we obviously should have won and the other one (against Northwestern) we should have won - so we are frustrated," Robinson said.
The fate of this season's Rebels team lies in the hands of Thomas, a 2001 preseason All-American and Heisman Trophy candidate.
The Compton, Calif., native and former USC Trojan averaged 172 yards passing and 61 yards rushing per game as a sophomore at UNLV.
He was slowed by a foot injury last season is healthy this year.
"I think he is a phenomenal player," Robinson said. "This will be just his 14th game as a college player, so he is not a veteran by any means and is still learning. He has some great ability."
Mackovic said Thomas' ability to run with the ball makes him a double-threat for the Wildcats.
"They have built their offensive attack around Jason Thomas," Mackovic said. "He runs a lot, and he pulls it down and goes. They have built the offense for that, and if he's on the corner, he can take off and go any time.
"The biggest thing for us is that we have to contain him. They use a lot of option offense, and they spring out the quarterback quite a bit so you will see him on the run."
Thomas isn't the only running threat in UNLV's offense.
Arizona's defensive line will be extremely conscious of junior tailback Joe Haro, who ran for 131 yards against Arkansas, a team known for its strong defense. After a good game against the Razorbacks, Haro continued the following week rushing for 104 yards against Northwestern.
"They are the best running team that we will have seen," Mackovic said.
Arizona receivers will have a tough task Saturday night if they happen to be covered by Rebel senior cornerback Kevin Thomas.
Thomas, a preseason All-American, has been a starter for the Rebels for the past four seasons.
"He is one of the better corners that I've dealt with in my career," Robinson said. "He is up there in terms of successful corners."
Mackovic compared Thomas to Deion Sanders - a player who revolutionized the position during his days at Florida State and the NFL.
"They incorporate a little of what I would call the 'Deion Sanders concept,'" Mackovic said. "Kevin Thomas will lock horns and get up and play bump-and-run coverage and take one particular wide receiver out of the game."
Senior Rebel free safety Sam Brandon - also a preseason All-American - will aid Thomas in an attempt to limit the productivity of Arizona receivers.
"They are going to be the best defense we have played all season," UA sophomore wide receiver Andrae Thurman said. "We've got our work cut out for us."
Rebel senior defensive end Anton Palepoi, a Lombardi Award candidate, is also likely to pose offensive problems for Arizona junior quarterback Jason Johnson. Palepoi led his team in sacks with eight and finished second in the Mountain West Conference last season.
"They have some other players up front (on defense) who have played well," Mackovic said. "Anton Palepoi is their best man up front, and he is definitely going to be a pro prospect along with Kevin Thomas."