Doyle: Welcome back, distraction
By Connor Doyle
---
ARIZONA DAILY WILDCAT
Thursday September 20, 2001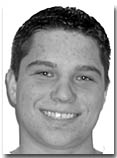 Connor Doyle

If there's been one disheartening thing about the past week in sports, it's been the poor turnout to baseball games so far. For the most part, teams have been below their season averages, and the only reason the St. Louis Cardinals sold out its game last night was because it was Mark McGwire bobblehead night. Nice to see that sports fans haven't totally lost their priorities.

Last week, I sat on the fence while deciding to whether or not sports should be played. One part of me said this was no time for sports, yet another yearned to see the community togetherness sports often provide.

Now that we have the games back, a sense of relief has washed over me. I can once again watch something other than Fox News. I can once again spend my idle time seeing how my fantasy teams are doing (not well, I might add). And I can once again look forward to Arizona athletics.

UA's football team plays a game Saturday against UNLV - the only non-conference team on UA's schedule ranked in the preseason top 25. While the Rebels lost their first two games, I can't wait to see how Arizona does against a squad that was thought to be so much better.

That's somewhat secondary, however. The thing I look forward to the most is the national anthem before the game. I sincerely hope every student and alumnus stands up and sings along as loud as he or she can. I look forward to the halftime playing of "God Bless America" - perhaps the anthem's superior - by the Pride of Arizona marching band. I look forward to seeing the Wildcats, with their uniforms colored by the red, white and blue (yes, I know the shading is all wrong), take the field and continue pounding their opponents en route to a Rose Bowl berth.

Well, you know what they say· "Hope springs eternal."

As stupid as this may sound, there may be nothing more patriotic than going to a college football game. Where else can you find yourself surrounded by 50,000 prideful Americans? There's something so wonderfully innocent about the college game - the bands, the fight songs, the mascots running around giving everyone high-fives. If anyone has ever wondered why college sports are often a fan's favorite, these are the reasons why.

We find ourselves at a crossroads in American society. There are people out there who hate our society, and part of that society is the often-illogical placement of sports in our priorities. Those societies that have lived their lives without the freedom we enjoy can't understand how games could mean so much to us. But that's a luxury we have.

Then again, I wonder just how meaningless sports are. When you think about it, sports have often been a stage in which real social issues have been the play. When Jackie Robinson broke the color barrier in baseball, it was a signal that this country was making real strides in race relations. When Jesse Owens beat Hitler's Aryans in the Munich Olympics, it was proof there was no superior race on this planet. When the United States Olympic hockey team beat the Russians in the "miracle on ice," it was proof to this entire country that we were going to win the Cold War, if we hadn't won it already.

College sports take that even further. School pride is important in this country - it's why we buy those annoying license plate holders that tell the rest of the world we're UA alumni, and why we make up those "How do you get an ASU grad off your porch?" jokes.

By the way, you pay him $10 for the pizza.

There's nothing more awe-inspiring than watching your peers do incredible things on the football field, the basketball court, in a volleyball game or on the softball diamond.

Likewise, there's nothing more awe-inspiring than watching how quickly this country has begun to heal. I, for one, would like to think that sports have played and will continue to play a major role in the healing process. I hope I never have to experience again what I did last week - not only for sports, but America as a whole - shutting down because of what happened last Tuesday. As long as the games go on, we know this country hasn't missed a beat.

God Bless America, and God bless sports. Nice to have you back, old friend.