Wildcats start title defense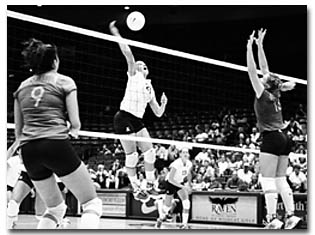 file photo
UA senior setter Dana Burkholder attempts a kill against Washington last season in McKale Center. The Wildcats will open up conference play tonight against the Oregon Ducks.
By Brian Penso
---
ARIZONA DAILY WILDCAT
Thursday September 20, 2001
Arizona ready to take on much-improved Ducks
The defending Pacific 10 Conference Champion Arizona women's volleyball team is 7-8 in Pac-10 openers since conference play began in 1986.
However, since UA head coach David Rubio took over the program in 1992, the Wildcats are 6-3 in conference openers.
No. 3 Arizona (5-0) looks continue the winning trend as they play host to Oregon (8-1), tonight at the McKale Center.
UA owns a 25-8 series record vs. the Ducks, which includes winning the last four matches. However, in the past 15 seasons, Oregon has accounted for two of the Wildcats' conference-opening losses.
The Ducks return four starters and nine letter winners from last year's team, but Rubio said he expects them to fare better than their 10-19 mark a season ago.
"I know that they are a lot better than last year's team," Rubio said. "In the past, they have lacked physical talents and athletes necessary to compete competitively, but now they have that. They have great athletes and coaching and they are only going to get better."
The Ducks are led by senior outside hitter Monique Tobbagi, who has posted double-digits in kills in all nine games this season.
Also, senior setter Julie Gerlach and junior setter Sydney Chute have posted the only two triple-doubles in the Pac-10 this season.
Oregon has added junior middle blocker Stephanie Martin - the 2000 National Junior College Player of the Year - to this year's team.
"They have a lot of great players," Rubio said. "Monique (Tobbagi) is a four-year starter and their setter (Gerlach) is a terrific player. They also have the 2000 junior college player of the year. They are just a very talented team."
Arizona's defense will counter Oregon's offensive attack with junior middle blocker Stefani Saragosa and senior middle blocker Erin Sebbas.
Sebbas leads the team with a 1.77 block per game average, and Saragosa is second with a 1.5 block per game average.
"Our middles are so important to our team," said 2000 Pac-10 player of the year Dana Burkholder. "Stefani gives us another offensive weapon, and Erin has been so solid for us defensively."
Oregon's well-balanced offensive attack has proven to be trouble for the Wildcats in the past, but Rubio said the team didn't prepare any differently for this match.
"Defensively, we prepare the same for every opponent," Rubio said. "We take a look at film and see where we can formulate our game plan."
Oregon's defense is young, with two sophomore defensive specialists starting.
The Wildcats plan to challenge that inexperienced defense with an offensive attack led by Burkholder.
The 2000 All-American leads the team with a 12.67 assists per game average and her play has helped junior outside hitters Lisa Rutledge and Shannon Torregrosa develop into the team's leaders in kills.
Rutledge is ranked No. 15 in the nation with a 4.93 kill per game average and leads UA with 69 total kills.
Torregrosa is second on the team with 56 total kills.
Saragosa adds to the offensive attack with a .569 hitting percentage, best in the nation.
Rubio said his biggest point of concern rests with the long layoff the team has had. Its last match was on Sept. 9.
"I really do not know how the layoff will affect us," Rubio said. "Everyone is in the same boat and it is not like any team has had the opportunity to play in the past week."
Rutledge is excited to return to play due to the extensive practice schedule of the past week and a half.
"Over the weekend, we had the opportunity to improve," Rutledge said. "All of this practice gets us ready for competition. We are all excited to play, and we are really pumped up to compete."
Tonight's first serve is at 7 in McKale Center.