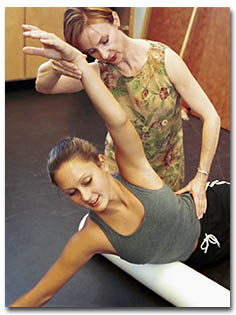 KRISTIN ELVES
Professor Melissa Lowe, back, and dance junior Rebecca Hammontree demonstrate one of the techniques that will be used during movement therapy sessions for cancer patients yesterday afternoon in the Ina E. Gittings building. Beginning Oct. 7, Meditation in Motion will be on Sunday afternoons from 3 p.m. to 4 p.m.
By Lisa Lucas
---
ARIZONA DAILY WILDCAT
Thursday September 20, 2001
Dance department motions for new cancer therapy
The University of Arizona dance department is moving in a new direction.
Thanks to the perseverance and dedication of assistant UA dance professor Melissa Lowe, UA Medical Center oncologist Ana Maria Lopez, and UA dance graduate student Rebecca Gorrell, the continuation of a movement therapy program for breast cancer patients and survivors is set to begin this October.
The program, called "Meditation in Motion," is in its third year as a UA-affiliated program.
A self-directed movement group, "Meditation in Motion" incorporates movement and dance into a small, group therapy session to promote the concept of honoring the body as well as promoting emotional support for the patients involved.
Lopez said she initially became interested in the program because of her own interest in the physical benefits of movement.
"I have a strong interest in better understanding the role of physical activity and the overall health of women with breast cancer," she said.
She added that the program began initially as a research-based program and continued last fall sans research.
Her interpretations of the results of the women in the self-directed movement group, as opposed to women not in the group, seemed to prove her theories of the benefits of movement correct.
"It seemed that in measures of anxiety and depression (there was a) slightly better outcome in women in the self-directed movement group," Lopez said.
Janet Olson, a breast cancer survivor, participated in the second therapy program and said it was "a wonderful comfort" to be involved in a program with other cancer patients.
"The setting was really supportive," she said. "I think it's an excellent program, especially for those who are not well and going through treatment."
Olson added that she still incorporates many of the techniques she learned through the program in daily life to both calm and energize her body and mind.
"The two things from this class (that) I've really kept in my life (are) the breathing techniques and a lot of stretching," she said. "Just being able to have those helps when you face a difficult situation."
After noticing the positive reactions of Olson and other cancer patients involved in the second, non-research based program Lowe, Lopez and Gorrell agreed it would be beneficial to both the patients and the organizers to reinstate the program as a research-based program.
Due to a lack of funding, plans to reissue a research-based program fell through. Lopez said the women have been able to pursue their interest in holding the program through generous donations of time and studio space to practice what Lopez referred to as "a labor of love."