American, United to Cut 40,000 Jobs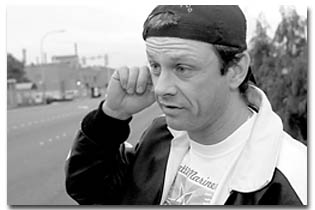 Associated Press
Tom Robicheau, 37, a Boeing airline mechanic, reacts following an announcement on Tuesday in Renton, Wash., that Boeing is expected to cut 20,000 to 30,000 jobs in commercial airlines operations by the end of next year.
By Associated Press
---
ARIZONA DAILY WILDCAT
Thursday September 20, 2001
SEATTLE - American and United airlines announced 40,000 layoffs yesterday as the U.S. aviation industry sank deeper into a crisis touched off by the terrorist attacks.
The parent company of American, the world's largest airline, said it will lay off at least 20,000, or 14 percent, of its 138,350 workers. The cuts by AMR Corp. will affect American, TWA and American Eagle.
The cuts mirror those by United parent UAL Corp., which amount to 20 percent of the 100,000 workers at the nation's second-largest airline.
"We simply have no choice but to step up to the realities of this extraordinarily critical time," United chairman and chief executive James Goodwin said.
The attacks have plunged the struggling U.S. aviation industry into a crisis that has cost it nearly 70,000 jobs and billions of dollars in vanished business in little more than a week.
Airlines warn the layoffs could rise to 100,000 and are asking for $24 billion in federal aid to keep them from ruin.
Boeing, the No. 1 maker of passenger jets, said Tuesday it will scale back deliveries and lay off up to 30,000 of its 93,000 commercial airline workers by the end of next year.
"This is not a ripple effect," said Rep. Jennifer Dunn, whose district in suburban Seattle includes thousands of Boeing workers who expect to lose their livelihoods over the next year. "This is a tsunami."
Airlines and their suppliers already were hurting from a slowing economy that had businesses cutting back on flights and tourists scaling back vacation plans.
Then came the Sept. 11 attack by terrorists using four hijacked Boeing airliners, the unprecedented two-day ban on commercial flights and expensive new security measures for travelers and airports.
Air travel has remained a shadow of what it was and airlines - including Continental, Delta and Northwest have scrambled to cut routes and, in some cases, jobs. On Wall Street, airline stocks took severe blows Monday though most, including AMR, posted slight gains Tuesday and yesterday.
American Airlines chairman Donald Carty said the Texas-based company was in a state of emergency.
"This declaration is an official recognition that - hard as it may be to accept - our company's very survival depends on dramatic change to our operations, our schedule, and worst of all our staffing levels," he told employees.
Analysts warn the industry's woes could spread to everyone from parts suppliers to travel agencies.
"It's going to reverberate through the entire system," said Paul Nisbet, an aviation analyst with JSA Research.
"We were having a slowdown, but it was a controlled slowdown as a result of the poor economy," Nisbet said. "This made it almost what you would call a panic slowdown."
United, based in Elk Grove, Ill., has been harder hit by the disaster than other carriers. Not only were two of its flights involved, but it relies more than others on revenue from business travel.
United had been on pace to lose about $1 billion this year due to the economic downturn and steep labor costs; analysts now say it could lose that much in the second half of the year alone. Its stock has plummeted 39 percent this week.
Foreign airlines likewise are suffering, with Virgin Atlantic, Dutch carrier KLM, Air France and Germany's Lufthansa among those saying they are scaling back routes, freezing hiring or cutting jobs and rethinking whether they can buy new aircraft.