Shootout in the Old Pueblo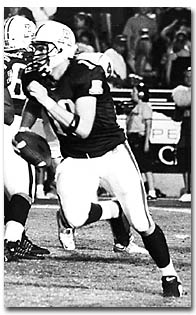 MIKE MEISINGER
UA junior quarterback Jason Johnson has thrown six touchdowns this season with only one interception, and may need to increase that production against an explosive WSU offense.
By Maxx Wolfson
---
ARIZONA DAILY WILDCAT
Friday September 28, 2001
WSU and UA both looking to remain undefeated
A note to all fans of defensive football: It might be a good idea to stay home for the Washington State-Arizona game tomorrow night - it has all the makings of a shootout.
Last season, the teams combined for 100 points and 980 yards in total offense in Arizona's 53-47 triple-overtime win, and this year should be no different.
"We can't expect our defense to get a goose-egg against a team like this," UA wide receiver Bobby Wade said.
UA head coach John Mackovic agreed.
"The games have been high-scoring with lots of action," Mackovic said. "Is it going to turn into a defensive struggle, by any chance? I don't think that this will be a defensive struggle. (WSU) is going to try to score 35 points or more."
In their first three games of this season, both teams displayed they have the arsenal for a tÉte a tÉte.
The Cougars (3-0 overall, 1-0 in the Pacific 10 Conference) average 42 points per game this season while the Wildcats (3-0 overall) average 32 points per game.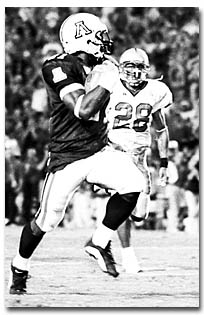 KEVIN KLAUS
UA freshman running back Tremaine Cox looks back as he runs for an 80-yard touchdown during tomorrow's game against UNLV in Arizona Stadium. It was the longest run of the year for the Wildcats, who are only averaging 3.8 yards per carry this season.
UA must either increase its output tomorrow or limit the amount of points they allow if they hope to end a five-game Pac-10 losing streak.
"We got to control the tempo," UA defensive tackle Anthony Thomas said. "If we can shut that offense down, then our offense will have great chance to win this game. I think the load is on the defense this weekend."
The Wildcats will have to control WSU junior quarterback Jason Gesser, who has hurt Arizona in the past. Last year, the Honolulu native threw six touchdowns and completed 19 of 36 passes for 348 yards in the Cougars' overtime loss.
"He looks better now than he did last year, and that is scary," Thomas said. "He is the best quarterback in the Pac-10. We know it's going to be hard to bring him down."
Gesser will likely rely on his favorite target, junior wide receiver Nakoa McElrath, to spread the UA defense. McElrath leads the nation in receiving with 514 yards and ranks third in the country with 27 receptions.
"I can't believe that he has 27 catches already," said UA wide receiver Malosi Leonard. "That's amazing. We know that we have to score a lot."
Last year, UA struggled to keep Gesser from throwing the ball over the top to his tall receivers. WSU's McElrath and junior Mike Bush stand 6-foot-2 and 6-foot-6, respectively.
The Wildcats have a receiver of their own who has given the Cougars nightmares the past two seasons: Wade.
In 1999, Wade caught a controversial 42-yard, last-second "Hail Mary" pass from former UA quarterback Keith Smith to give Arizona a 30-24 victory in Pullman, Wash. It was Wade's first career 100-yard game.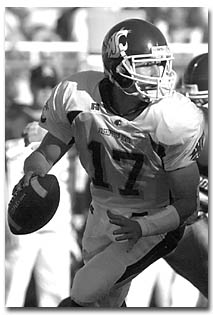 Associated Press
WSU junior quarterback Jason Gesser threw for a career and school best 6 touchdowns in his last meeting with UA.
"It was exciting to play in a game like that and make a catch like that," he said. "Ever since then, I think I have been playing all right. I have been in the limelight a little bit and do whatever I can to help out."
Last season, Wade continued punishing the Cougars. Despite coverage from Marcus Trufant, WSU's best cornerback, he still managed to snag six passes for 112 yards.
"I noticed their No. 1 cornerback was chasing me everywhere last year," Wade said. "Washington State has been one of my good games. I would think that they would have a little animosity towards us now. All that stuff stays fresh in their mind."
Unlike last year, WSU will not be able to key on one receiver. UA junior quarterback Jason Johnson already tied a school record this season by connecting with nine receivers in a game.
"I have never been a part of an offense like this," Leonard said. "I have more catches now than I have had in my whole career and we have only played three games. It's cool to have this new offense."
Leonard and Wade hold the team lead in receptions this season with 14 each. In three games, 12 UA players have caught at least one pass.
Even though the Wildcats are 3-0, Mackovic said there is room for improvement.
"We are pleased that we have won three games," Mackovic said. "We have done a lot of good things, but we really haven't dominated anybody for an entire game. Because of that, we can't look as if we are complete. There is still a lot of work to do. We have a lot of bright spots, but there are still areas in every area that we need to improve upon."