Wildcats ready for some Duck hunting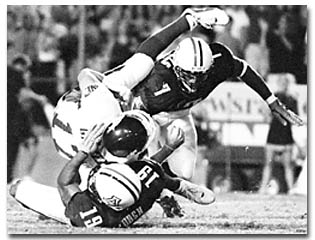 RANDY METCALF
UA senior strong safety Brandon Nash and junior linebacker Ray Wells tackle WSU's Jason Gesser during their game last weekend at Arizona Stadium. The Wildcats will face No. 7 Oregon this weekend, their highest-ranked opponent since Penn State in 1999.
By Kamy Shaygan
---
ARIZONA DAILY WILDCAT
Friday October 5, 2001
UA hopes to stifle 'comeback kid'
After a 48-21 loss to unranked Washington State last week, the UA football team matches up against No. 7 Oregon tomorrow night at Arizona Stadium.
A crowd of more than 50,000 is expected to witness UA's highest-ranked opponent since they battled No. 3 Penn State in 1999. Arizona lost the now-infamous game to the Nittany Lions, 41-7.
As if UO's ranking wasn't reason enough to worry, the Wildcats have struggled mightily against the Ducks in recent history.
Oregon has won six of the last seven meetings between the two schools, including last year's 14-10 victory in Eugene.
UO vs. UA
WHERE
Arizona Stadium
WHEN
7 p.m. kickoff
TICKETS
Available at the McKale
box office
$6 for students
FAST FACTS
UO boasts the Pac-10's
three top-tackling linebackers
in David Moretti, Keith Lewis
and Wesly Mallard
WHO TO WATCH
UO: QB Joey Harrington,
RB Maurice Morris
UA: CB Michael Jolivette,
QB Jason Johnson
The Ducks (4-0 overall, 1-0 Pacific 10 Conference), led by Heisman Trophy candidate Joey Harrington, charge into Tucson winning 20 of their last 22 road games.
Harrington, featured on a billboard in Manhattan pitching him for the Heisman Trophy, has not thrown an interception in his last 92 passes, and carries an 18-2 record as a starter.
"Oregon has played to the highest level necessary for them to be undefeated at this point," UA head coach John Mackovic said. "We have to make sure that we do not give (Harrington) some of the big plays, and we have to keep constant pressure on them."
Arizona junior quarterback Jason Johnson said he expects the Oregon defense to be after him the entire game.
"Oregon has a very attacking defense," Johnson said. "They like to force the action against you and I'm sure they're playing with a lot of confidence right now. This being my first season at quarterback, I expected everyone to come after me."
The Puyallup, Wash., native threw just one interception prior to last week's loss to Washington State. He threw three picks in the first quarter against the Cougars.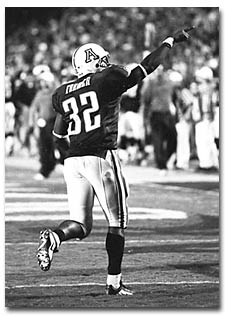 RANDY METCALF
Sophmore halfback Clarence Farmer
Despite last week's loss, Johnson said he knows what the Wildcats did wrong and the defeat won't affect the psyche of the team.
"We really beat ourselves out there last game and that's really what happened," Johnson said. "What we learned this week is that we need to stay within ourselves and play smart and do what got us to that point.
"We just need to stay confident in ourselves. I don't think our team is down. I think our attitude is still strong and our team is still confident."
UA sophomore wide receiver Andrae Thurman, who has caught 13 passes this season for 221 yards, said he has nothing but respect for the Ducks.
"They are definitely going to be the toughest team we've played so far," Thurman said. "We have our work cut out for us."
UA sophomore halfback Clarence Farmer will have his hands full on Saturday, as he'll have to avoid three of the Pac-10's best tacklers.
Junior middle linebacker David Moretti leads the defensive unit with a Pac-10-leading 10.7 tackles per game. Teammate Keith Lewis is second in the conference with 10.5 tackles, and outside linebacker Wesly Mallard is third with 9.8 tackles.
UA cornerbacks will face arguably the best cornerback in the conference, senior Rashad Bauman. Bauman was a third-team All-American last season and first-team All-Pac-10. Bauman had one tackle against the Wildcats last season.
"Rashad Bauman is probably the best corner in the Pac-10," Thurman said. "It's going to be a big challenge for our receivers. It's going to be a good chance for our receivers to play one of the best in the Pac-10."
Johnson said UA's offense will need a near-perfect game against the Ducks' defense for any chance of victory.
"It's going to be a tough game against a very physical, solid defense," Johnson said. "I think when you play a team like that, you really need to be prepared. You can't make any mistakes or it will cost you the game because their offense will take advantage of those errors."