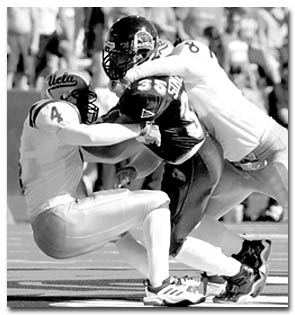 Associated Press
OSU running back Ken Simonton is tackled by two UCLA defenders earlier this season. Simonton's rushing numbers are down this season because opposing defenses have been concentrating on stopping the Heisman candidate.
By Kamy Shaygan
---
ARIZONA DAILY WILDCAT
Thursday October 11, 2001
Performance doesn't meet preseason hype for Oregon State
When No. 10 Oregon State came to Tucson last season, they handed Arizona its most lopsided loss of the season, knocking off the Wildcats 33-9. It was also the first time in 30 years they were ranked in the top 10 nationally.
After finishing the 2000 season with an 11-1 record and a blowout victory against Notre Dame in the Fiesta Bowl, the Beavers were projected by Sports Illustrated as the preseason favorite to win the National Championship in 2001.
Since the magazine came out - which featured the Beavers on the cover - Oregon State has gone 1-3, losing two consecutive Pacific 10 Conference games.
Is this another case of the Sports Illustrated jinx?
Oregon State's head football coach Dennis Erickson thinks so.
"They were crazy," Erickson said. "That thing is obviously a jinx to everybody, but looking at what we had coming back and the players we'd lost, when I saw that - there's nothing you can do about it.
"It's good as far as publicity is concerned - I guess - but as far as playing the game, and me knowing where we were and prognosticators knowing where we were, that's two different things."
The Beavers' three losses this season have come courtesy of Fresno State, UCLA and Washington State - three schools with a combined 14-0 record this season.
"Obviously they were good football teams that are playing well," Erickson said. "I don't know if that's encouraging, but I guess it's better than them only winning one game - against us."
The type of offensive explosiveness expected from the Beavers this season finally showed - somewhat - in the second half of their loss to Washington State. The Beavers fought back from a 31-0 deficit but lost 34-27.
"We just played with more confidence (in that second half)," said Erickson about his team's come back against WSU. "We've just got to carry that on this week in practice and play that way Saturday against Arizona."
Oregon State will hope to get an offensive charge from senior tailback Ken Simonton, who is the only player in Pac-10 history to record 1,000 yards during his freshman, sophomore and junior years.
However, Simonton has not lived up to his pre-season Heisman Trophy hype.
In four games this season, the senior has only 256 yards on 74 carries.
Never were Simonton's struggles more apparent than last week against the Cougars, where he managed to gain only 19 yards on 12 carries.
That could spell good news for the Wildcats, as they were able to contain Simonton last season, holding him to only 74 rushing yards. UA was one of four teams that held the tailback under 100 yards rushing last year.
Simonton has had only one 100-yard game this season when he rushed for 169 yards against New Mexico State.
"I don't think there is anything ailing him," UA head coach John Mackovic said. "He is a positive catalyst for Oregon State, and I expect him to continue to be."
Simonton's struggles might not be all his fault. Opponents have taken advantage of the Beavers' lack of depth at the wide receiver position.
Oregon State lost wideouts T.J. Houshmandzadeh, Robert Prescott, Chad Johnson and tight end Martin Maurer. That has left senior quarterback Jonathan Smith with no experienced player to throw the ball to.
Opposing defenses have feasted on this weakness, sometimes putting as many as eight players on the defensive front to slow down Simonton.
That might be the only way an injury-riddled Arizona defense will be able to stop the Beavers Saturday.
If they can't, Oregon State fans might finally see their Heisman hopeful in top form.