Stumbling out of the blocks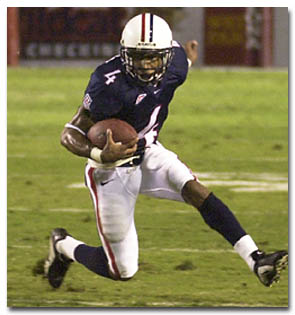 KEVIN KLAUS
UA sophomore wide receiver Andrae Thurman rushes down the field after a catch in the second quarter against Oregon. The Wildcats lost to the Ducks 63-28 on Saturday night.
By Maxx Wolfson
---
ARIZONA DAILY WILDCAT
Friday October 12, 2001
UA, Oregon St. look for first Pac-10 win tommorrow
Some say few original plot lines remain in sports these days. Tomorrow at Reser Stadium in Corvallis, Ore., two teams that have shared similar fates will meet.
In 1999, the Arizona football team had high hopes of making it to the Rose Bowl - the grand prize for the winner of the Pacific 10 Conference - for the first time in school history.
Up north this fall, all the talk was about Oregon State.
Sports Illustrated thought so much of the team that the magazine put the team on the cover and picked it to win the National Championship.
This year's Beavers, like the Wildcats of 1999, have not lived up to the hype.
Arizona finished the 1999 season 6-6 after an embarrassing 41-7 national-television loss to Penn State. This season, the Beavers started a disappointing 1-3. And now they rest their hopes on just making a bowl game.
Few would have thought the two teams - which looked like they were going in opposite directions at season's start - would have anything in common this season.
Oregon State (1-3 overall, 0-2 in Pac-10) was picked to finish No. 2 in the Pacific 10 Conference and Arizona (3-2 overall, 0-2 in Pac-10) was picked ninth.
Both teams rank in the bottom half of the Pac-10 in scoring offense and scoring defense.
Each team suffers from injury problems and has lost key players to graduation.
However, neither head coach will use any of that as an excuse when the two teams meet tomorrow night.
"Obviously, we are not as good as people thought," OSU head coach Dennis Erickson said. "They're in somewhat the same situation we're in right now in our conference. We're both 0-2, so it's a critical game for both football teams as far as the league is concerned. Probably even more than that, to stay in the race and have opportunities to be involved in bowls and so forth as the year goes on."
UA head coach John Mackovic said the two teams have a lot in common.
"Oregon State has had some injuries, and they had a lot of turnover from last year," Mackovic said. "I think coach Erickson said it best when he said that they are not clicking on all cylinders. They are going through a lot of the same things that we are going through."
UA players will try to snap out of a seven-game Pac-10 losing streak.
"We are searching for answers, and we know we are a better team than what we are showing," senior defensive end Alex Luna said.
Injuries have hit the Wildcats hard in recent weeks.
Mackovic listed eight players considered questionable to play or out of the game altogether, which forces Arizona to use players with little or no experience.
The problem for OSU has been the loss of four key players on offense. Wide receivers Chad Johnson, T.J. Houshmandzadeh and Robert Prescott, and tight end Martin Maurer all ended their Beaver careers with a dominant victory against Notre Dame in last year's Fiesta Bowl.
"When you lose players, you've got to have players step up at that position or those positions and play real, real well," Erickson said. "We've had guys step up who have played okay; they have to continue to get better for us to get to that point where we were a year ago."
The lack of a passing game hurt the Beavers in another part of the offense - the run attack.
Opposing defenses have placed eight players on the defensive line to shut down Oregon State's All-American senior tailback Ken Simonton.
Simonton, a top candidate for the Heisman trophy early this season, has struggled because of it.
He gained only 19 yards on 12 carries last week against Washington State and is averaging only 64 yards per game this season, compared to 131 yards last season.
"I can deal with getting beat, but when you don't go out and fight, it's just like watching two kids on the playground and one's getting swung in a circle getting punched - it's like, 'Man, fight back. You're already getting hit. What's it going to cost you to swing back?'" Simonton said. "That's been kind of the most frustrating part for me (and the) guys on my side of the ball - we just look soft on offense, all 11 of us."
On the opposing sideline, an injury-riddled Arizona defense will need to use whatever personnel they have left to stop Simonton.
Arizona will start sophomore linebacker Matt Molina in place of junior linebacker Joe Siofele. It will be Molina's first career start in the important whip linebacker position, a key part of the double-eagle flex defense.
Siofele, who had surgery this week, is likely out three to four weeks with a broken hand.
These two teams may share a similar story, but only one team will go home Saturday with a win.
For now, nothing else matters.