Safe student transportation at top of ASUA's list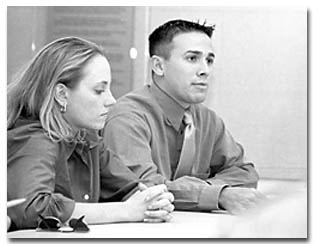 BEN DAVIDOFF
ASUA Administrative Vice President Tricia Williams (left) and Associated Students President Ray Quintero welcomed the new Senate at last night's ASUA meeting. Williams said she hopes to have ASUA's Escort Service up and running the week after Labor Day.
Thursday August 23, 2001 |
Arizona Daily Wildcat
Senators already working on campaign promises
Although the Escort Service - a fleet of vans that delivers students safely home from all around campus - is not yet in service for the semester, ASUA Administrative Vice President Tricia Williams said she is working on getting the service up and running.
"There has only been one time when the escort service was running on the first day of classes," Williams said. "That was only because we had a returning director."
The service was one of the main issues discussed at last night's Associated Students of the University of Arizona meeting, the first one this year.
Williams said once a director is appointed, traditionally a student, the service will be ready to get going.
"We normally get the service started the week after Labor Day," she said. "We plan on having things going by then."
Senator Sarah Calvert talked about her goal to provide transportation to students who simply want to get off campus.
"What we're trying to do is talk to grocery stores and malls and try to provide a service that would allow students, especially freshmen, to have access to places off campus," Calvert said.
Calvert, who brought up the idea when running for ASUA Senate, said she is committed to following through on her promise.
Senator Allison Jones supports Calvert's idea and is working closely on it with her.
"You really don't see anyone going off campus, especially as a freshman," she said.
Calvert originally hoped for the service to be connected with the escort service, but said because of legalities, she must make her issue separate.
She said she would like to rent university vans, which cost approximately $70 each, and encouraged other senators to volunteer their time to the service.
Calvert also plans to work on setting up an online club listing and putting together pulse team.
"With pulse team we're going to take surveys and find out what students want," she said. "We want to know if they like what we're doing or totally disagree with our ideas."
The plan correlates with Associated Students President Ray Quintero's hope to set up an online suggestion box to make ASUA more visible and more accountable to the student body.
Jones will soon begin working on a housing service that students can use later in the year.
She plans to put together an apartment rating system that will serve as a forum for students looking for apartments.
"Many times students don't know what they are getting themselves into," Jones said.
She said when a student is interested in an apartment, they can see how others who lived in the complex liked it.
ASUA's next meeting will be Tuesday night at 6 p.m. in McClelland Hall, Room 126.