Women's basketball star quits team for 'personal reasons'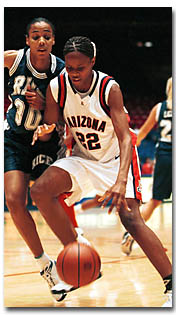 file photo
Former UA forward Veranda James drives into the lane in November against Rice. James left the team and dropped out of school last year citing "personal reasons."
By Ryan Finley
---
ARIZONA DAILY WILDCAT
Thursday August 23, 2001 |
Arizona Daily Wildcat
UA officials confirmed yesterday that Veranda James, the Arizona women's basketball team's second-leading rebounder and third-leading scorer, has left the team and withdrawn from school for personal reasons.
UA head coach Joan Bonvicini refused comment except to say that James' departure was unexpected.
"We just hope the best for her," Bonvicini said.
James' first - and only - year as a Wildcat was marked by academic suspensions and injuries. The forward was forced to miss critical early-season contests due to a concussion and missed a December trip to the San Juan Shootout in Puerto Rico for academic reasons. James actually traveled to the national tournament only to learn that she had to complete Winter Session classes. James returned to Tucson soon after.
When James was both healthy and eligible, she proved to be one of the Pacific 10 Conference's top freshmen.
James averaged 13.1 points and 8.2 rebounds in the 21 games she played in 2000-01 and led all Wildcats with 19 points and 9 rebounds in Arizona's season-ending loss to New Mexico in the National Invitational Tournament.
The forward - widely regarded as one of the best players in California during her senior season at Ganesha High School in Pomona, Calif., in 1999 - was viewed as one of the team's young stars.
James' departure was even felt by UA's in-state rival. Arizona State head coach Charli Turner Thorne called James' departure "a shame."
"Obviously, she was the focal point of the program," Turner Thorne said. "She probably has things more important than basketball. She was a great player. U of A does a great job with their kids, so you know its something important."
James' departure marks the second time in less than a year that a Wildcat player has left the team for unspecified reasons.
Last Feb. 5, starting point guard Tysell Bozeman was kicked off the team for what Bonvicini called "a violation of team policies."
Bonvicini said she is content standing pat with the players she has. The 2001-02 Wildcats will carry four incoming freshmen and a transfer, sophomore Mandakova Clark. Clark will be forced to sit out the season due to NCAA regulations.
"I doubt it's possible to fill (James') roster spot," Bonvicini said.
"We aren't going to pick anybody up at this point, we have plenty of players," assistant coach Denise Dove Ianello said. "It just means that players in (Veranda's) position won't be sharing time with her."
Both coaches said the decision came as a surprise. As late as May 9, Dove Ianello was predicting great things for James.
"If I had to project the kind of career (James) will have at Arizona, it's very bright," Dove Ianello said.