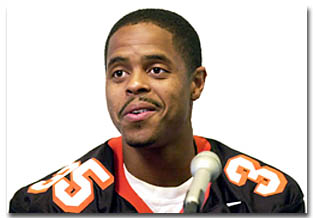 Ken Simonton
Oregon State running back
By Maxx Wolfson
---
ARIZONA DAILY WILDCAT
Thursday August 23, 2001 |
A team by team breakdown of the UA's 2001 opponents
---
Game 1 · Aug. 30 · San Diego State Aztecs @ Qualcomm Stadium
Hometown: San Diego, Calif. · 2000 record: 3-8 · School attendance: 31,500 · Head Coach: Ted Tollner (eighth year)
Player to Watch - Running Back Larry Ned

If one thing is going to prevent San Diego State from making a bowl game this year, it could be scheduling. The Aztecs open with three non-conference games against both Arizona schools - UA at home and Arizona State in Tempe - and then travel to Ohio State to take on the Buckeyes· Junior Lon Sheriff beat out true freshman Adam Hall and freshman Jon Stoner and will get the starting nod at quarterback for the Aztecs· The Aztecs will go as far as the legs of Larry Ned will take them. Ned, returning from an injury-plagued 2000 season, is the preseason candidate for Mountain West Player of the Year · The defense is anchored by senior defensive tackle Jerome Haywood. Despite being only 5-foot-9, Haywood needs to be double-teamed on each play.
---
Game 2 · Sept. 8 · Idaho Vandals @ Arizona Stadium
Hometown: Moscow, Idaho · 2000 record: 5-6 · School attendance:11,430 · Head Coach: Tom Cable (second year)
Player to watch - Quarterback John Welsh

Welsh and wide receiver Chris Lacy both return to an offense that was ranked eighth in the nation last year. Welsh finished last season throwing for 3,171 yards and 22 touchdowns. Six of his touchdowns passes were to Lacy· The Vandals run multiple offensive schemes· The one question mark remains who will replace 1,200 yard rusher Willie Anderson. It could be senior Anthony Tenner - who missed 2000 with a broken finger - or sophomore Zach Gerstner. Tenner has had the early lead with Gerstner out with a sprained ankle· An Oct. 6 match-up in Murfressboro against Middle Tennessee State could decide who will win the Sun Belt Conference Championship.
---
Game 3 · Sept. 22 · UNLV Running Rebels @ Arizona Stadium
Hometown: Las Vegas, Nev. · 2000 record: 8-5 · School attendance: 23,000 · Head Coach: John Robinson (third year)
Player to watch - Quarterback Jason Thomas

Never heard of Thomas? When he plays Arizona on Sept. 22 his name will be the only name you will need to know. Unfortunately for Thomas and the Rebels somebody else is going to have to step up. Former USC head coach and now UNLV coach John Robinson has called his quarterback the most gifted player he has ever seen. A viable Heisman candidate this year, Thomas will have to work with a new tailback and fullback·Want to hear how unsure UNLV is in the backfield? During the Rebels' last scrimmage, 12 different players carried the football· Thomas will need wide receiver Troy Mason to step up this season if the Rebels are going to answer all the hype the team has been receiving.
---
Game 4 · Sept. 29 · Washington State Cougars @ Arizona Stadium
Hometown: Pullman, Wash. · 2000 record: 4-7 · School attendance: 22,000 · Head Coach: Mike Price (13th year)
Player to watch -Running back Dave Minnich

Minnich is tough, just ask his former troops in the United States Marine Corps. The Cougars will need to rely on the 27-year-old to improve upon his 2000 numbers - 754 yards rushing and four touchdowns - if WSU is going to make any noise in the Pac-10·
Don't count out the Cougars out of the race just yet though - last year WSU lost three games in overtime, which could have turned a disappointing season into one that ended in a bowl game· WSU junior quarterback Jason Gesser was on his way to a good year last season until he broke his leg. He appears to be back in form, though - in three scrimmages this year Gesser has yet to throw an interception.
---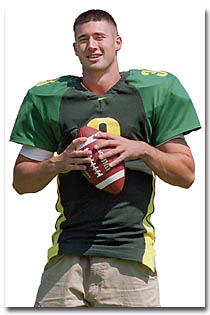 Joey Harrington
Oregon quarterback
Game 5 · Oct. 6 · Oregon Ducks @ Arizona Stadium
Hometown: Eugene, Ore. · 2000 Record: 10-2 · School attendance:17,350 · Head Coach: Mike Bellotti (sixth year)
Player to watch - Quarterback Joey Harrington

Oregon hasn't lost at home since 1997, which is good news for the Wildcats who get to plat them in Tucson this year· The Ducks got a gift this year by not having to play Washington, which should help UO reach its goal of finishing the season undefeated· Oregon's high-powered offense will be lead by Harrington. Harrington has been blown up this off-season - literally. Across the street from Madison Square Garden stands a 12-story picture of the Heisman candidate, courtesy of Ducks boosters·On the ground the Ducks will turn to senior Maurice Morris, the nation's all-time leading Junior College rusher. Morris finished last season with 1,188 yards and ten touchdowns· Cornerback Rashad Bauman is one of four starters returning for Oregon on defense. Bauman is one of the nations best cover corners.
---
Game 6 · Oct. 13 · Oregon State Beavers @ Reser Stadium
Hometown: Corvallis, Ore. · 2000 record:11-1 · School attendance:17,000 · Head Coach: Dennis Erickson (third year)
Player to watch- Running back Ken Simonton

When Simonton joined the Beavers three years ago, he joined a team that had not been to a bowl game in 26 years. Now they're considered a contender for the National Championship· Simonton can be the first Pac-10 player in history to rush for over 1,000 in each of his four seasons· Simonton does not do all the work alone - OSU might have one of the best 1-2 punches in the country in the backfield. Senior Patrick McCall rushed for over 600 yards last season giving Simonton time to rest· The one question mark on offense for Oregon State is at wide receiver. Oregon State lost T.J. Houshmanzadeh and Chad Johnson to the National Football League draft and had to part with wide receiver Robert Prescott.
---
Game 7 · Oct. 20 · Washington Huskies @ Husky Stadium
Hometown: Seattle, Wash. · 2000 record: 11-1 · School attendance: 34,000 · Head Coach: Rick Neuheisel (third year)
Player to watch - Defensive tackle Larry Tripplett

September 8 is a key day for two reasons. First, the Huskies play host to Michigan. Second, Curtis Williams might be able to attend the game. Williams injured his spinal cord last season against Stanford on Oct. 28 and has been paralyzed from the waist down ever since. The Huskies are going to dedicate the season to Williams· Washington's season could be determined in the first two games against Michigan at home and Miami on the road. If UW loses even one of those games it's chance to return back to the Rose Bowl could be severely harmed· Talented sophomore Rich Alexis will be the key to the UW offense.
---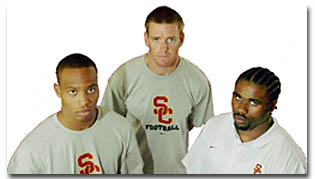 Southern California quarterback Carson Palmer, center, is joined by wide receiver Kareem Kelly, left, and tailback Sultan McCullough
Game 8 · Oct. 27 · USC Trojans @ Arizona Stadium
Hometown: Los Angeles, Calif. · 2000 record: 5-7 · School attendance: 28,800 · Head Coach: Pete Carroll (first year)
Player to watch - Offensive Coordinator Norm Chow

USC is known for landing the top recruits and its biggest gem this year is not even a player, it's a coach - Chow. He's regarded as one of the premier offensive coordinators and quarterback coaches in college football. Chow was brought in to help junior quarterback Carson Palmer finally live up to his high expectations·Carroll said if Palmer can make good decisions and take care of the football, USC should regain its national prominence.
Palmer will look to connect with junior receiver Kareem Kelly· Kelly also competes on the Trojan track team· The tandem have worked well together in the preseason. The USC-Notre Dame game on Oct. 20 is always an interesting match-up.
---
Game 9 · Nov. 3 · Cal Golden Bears @ Memorial Stadium
Hometown: Berkeley, Calif. · 2000 record: 3-8 · School attendance: 31,000 · Head Coach: Tom Holmoe (sixth year)
Player to watch - Quarterback Kyle Boller

With 17 returning starters Cal is optimistic with its chances this year· Boller has struggled in each of his first two seasons as quarterback, but Holmoe has high hopes for his signal-caller this year· Cal hired former UCLA offensive coordinator Al Borges to help ignite the offense· Joe Igbar rushed for over 900-yards last season· Holmoe has been known as a defensive coach, and now with Borges he should be the perfect compliment.
· The loss of defensive end Andre Carter - drafted seventh overall by the San Francisco 49ers - is a major loss to the defense. The Bears will need linebacker Scott Fujita to take over the leadership role.
---
Game 10 · Nov. 10 · Stanford Cardinal @ Arizona Stadium
Hometown: Stanford, Calif. · 2000 Record: 5-6 · School attendance:13,075 · Head Coach: Tyrone Willingham (seventh year)
Players to watch - Quarterbacks Randy Fasani and Chris Lewis

Fasani enters the year as the Cardinal No.1 quarterback but junior Lewis isn't to far behind. The competition down on the farm should be one to watch all season. Willingham said that Fasani can be spectacular at times and has the ability to be an outstanding quarterback· Stanford returns its entire backfield from last season, led by running backs Brian Allen and Kerry Carter. Carter led the team with 729 yards with six touchdowns ·
Willingham nailed his teams weakness on the nose when he said, "If you don't score points, you don't have a chance to win."· The largest hole on defense will be to find a replacement for two-time First-Team Pac-10 All-American Willie Howard·
---
Game 11 · Nov. 23 · Arizona State Sun Devils @ Sun Devil Stadium
Hometown: Tempe, Ariz. · 2000 Record: 6-6 · School attendance: 43,732 · Head Coach: Dirk Koetter (first year)
Player to watch - Defensive end Terrell Suggs

This guy is so good, his hometown of Chandler named a day after him - Terrell Suggs Day. Suggs, who was named the Pac-10 Conference Freshman of the Year, led ASU with 10 sacks last year· On offense, Koetter has brought his system over from Boise State and it has the opportunity to flourish in the desert if he can find a quarterback. Koetter named sophomore Jeff Kron the starter for now· ASU lost two playmakers from each side of the football to the NFL draft - linebacker Adam Archuleta and tight end Todd Heap.
"Heap is a player we are just not going to be able to replace," Koetter said.
If ASU can defeat all three non-conference teams - SDSU, Louisiana-Lafayette and San Jose State - a bowl game could be in its future.
---