Johnson will start Saturday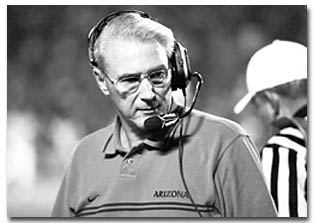 RANDY METCALF
UA head football coach John Mackovic considers his next play during the Wildcats' game against Washington State. Mackovic said this week that he will stay with Jason Johnson as the team's starting quarterback.
By Maxx Wolfson
---
ARIZONA DAILY WILDCAT
Wednesday October 17, 2001
UA junior quarterback Jason Johnson's starting job is safe, at least for this week.
Head coach John Mackovic said he stuck with Johnson in the second half of last week's 38-3 loss to Oregon State because he wanted Johnson to get the extra work, a far cry from what the move he made a week earlier against Oregon.
Sophomore Cliff Watkins and freshman John Rattay replaced Johnson for the majority of the second half against the Ducks.
"I was going to change quarterbacks in the second half, but I decided that I was going to give Jason every possible opportunity," Mackovic said. "I really am not interested in changing quarterbacks (against Washington), but we need to have better play at that position."
Johnson, who grew up only 30 minutes from Husky Stadium in Puyallup, Wash., said he is glad that Mackovic allowed him to play through the second half of Saturday's loss.
"I just wanted to keep going out there," Johnson said. "I think it showed that he has confidence in me."
Johnson said that the offense has to keep the defense off the field this week.
"I think the offense has put way too much pressure on the defense," Johnson said. "We have gone three-and-out way too many times."
---
Arizona received some positive news this week - senior defensive ends Eli Wnek and Austin Uku have a chance to play Saturday against Washington, Mackovic said.
Wnek hasn't played this season because of an ankle injury he suffered during the summer, and Uku re-injured his knee before the Oregon game and missed last week's game against Oregon State.
"If we get those guys back for a little play, that will help us get closer to being full strength at defensive end," Mackovic said. "It will be good to see them back. Uku and Wnek bring some good experience, especially in Eli's case because he brings a fresh enthusiasm for having had to sit out all these weeks just waiting to play."
Wnek has practiced this week, while Uku has still not been able to.
"I made a couple mistakes (yesterday) but the more I play, the more comfortable I get," Wnek said. "I just want to be ready to play the entire game if they need me to."
Mackovic said he didn't get a chance to see Wnek practice last night.
"The trainer said that he did everything and he did fine, so that was good," Mackovic said. "Austin hopefully (today) can do a little work. He has just been watching and doing some running so he is still pretty much questionable this week."
Sophomore linebacker Joe Siofele will not play again this weekend because of surgery on his hand.
---
In Mackovic's three stints as a head coach, he has made just one bowl game in his first season at the helm, when he coached Illinois (All-American Bowl in 1988).
If the Wildcats don't win three of their next five games, it will mark the third time in four chances that Mackovic did not make a bowl game.
"So many times people start worrying about where we are, and they forget we're going back out this week to play again," Mackovic said. "When you sign on, you sign on for the whole season."
In 1978, Mackovic experienced his first losing season.
As the head coach at Wake Forest, Mackovic's Deamon Deacons won their first game - and went on to lose their next 10.
The following season, however, Wake Forest went 8-4 and made it to the Tangerine Bowl, the team's first bowl game in 30 years.
In his first seasons at Wake Forest, Illinois, Texas and UA, he has a combined record of 16-23-1.
---
Mackovic said UCLA senior tailback DeShaun Foster has his early vote to win the Heisman trophy after his performance against Washington last weekend.
Foster - who amassed 301 yards on 31 carries with four touchdowns against UW - was named Pacific 10 Conference Player of the Week yesterday.
Foster leads the nation in rushing, averaging 162 yards per game.