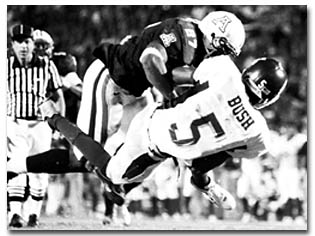 JON HELGASON
UA junior middle linebacker Lance Briggs tackles Washington State wide receiver Mike Bush during their game Sept. 29 at Arizona Stadium. Briggs said the Wildcat defense will have to be ready for two different offenses tomorrow when it faces Washington, depending on which quarterback starts.
By Connor Doyle
---
ARIZONA DAILY WILDCAT
Friday October 19, 2001
Wildcats head to Northwest for important conference game
The last two times the Arizona football team traveled to Washington, the Huskies and Wildcats battled to last-second finishes.
Considering each team's progress - or UA's lack thereof - this week's game might not be so close.
For the second consecutive season, Arizona (3-3 overall, 0-3 Pacific 10 Conference) will head to the banks of Lake Washington to take on the Huskies (4-1 overall, 2-1 Pac-10) tomorrow afternoon.
The last three meetings between these teams - Washington has won the last two - have been decided by a total of 14 points. Last year's game was decided by a blocked field goal attempt as time expired.
Much has changed, however, for both teams.
Gone for Washington is its starting senior quarterback from last season, Marques Tuiasosopo, and much of the offensive line that enabled the Huskies to maintain one of the most consistent running attacks in the Pac-10.
To compound the quarterback difficulties for UW head coach Rick Neuheisel, both starter Cody Pickett and backup Taylor Barton are injured. Pickett suffered a separated shoulder against Southern California two weeks ago and sat out last week's loss to UCLA. During that loss, Barton injured his ankle and foot and was thought to have suffered a concussion. Neuheisel has said he will not name a starter until tomorrow, though Pickett will start if he is healthy.
"It remains to be seen," he said. "We have two QBs who both play well. Both are a little beat up. We will see who is most healthy for this week."
Washington's quarterback situation has forced Arizona's defense to prepare for the two different offenses they may face, depending on which quarterback is under center.
"We're preparing for both (quarterbacks)," senior middle linebacker Lance Briggs said. "Pickett's a shiftier player, more of a runner. He'll involve the option a lot more. Barton's more of a passing type, so we'll see less option. So we'll be prepared for either."
What may make life easier for the Wildcats is the performance of Washington's running backs, senior Willie Hurst and sophomore Rich Alexis, who both had less-than-productive games against UCLA last week.
Briggs, however, is aware of how explosive Hurst can be if given room to run.
"(Hurst) is a playmaker," Briggs said. "He's a shifty back; he makes a lot of cuts in the hole. He's just an outstanding running back."
The UA defense will receive a boost tomorrow with the return of two defensive starters, senior defensive ends Eli Wnek and Austin Uku.
Wnek, who missed the first six games with a stress fracture in his foot, said he was happy to be playing again and hoped to be ready for this weekend.
"Oh my gosh, it feels great to be back," Wnek said after practice on Tuesday. "I made some mistakes in practice, but I'm just getting more comfortable each day. I hope to be ready if they need me to play."
The Wildcats will need to change if they hope to garner their first conference win of the season tomorrow.
Six games into the John Mackovic era, the team has gone from a promising start to a 3-3 record.
The offense has sputtered in its last three outings, being outscored by Washington State, Oregon and Oregon State by a combined 97 points. Junior quarterback Jason Johnson has been pulled twice midway through games in favor of backups sophomore Cliff Watkins and freshman John Rattay.
Mackovic said he would stick with his starter against Washington, but expects the entire offense to get back on track.
"I really am not interested in changing quarterbacks this week, but we need to have better play at that position," he said. "In the last three weeks, the coverages have been tighter, our wide receivers are getting pressed hard, and the pressure on our quarterback has been significant. We gave up three sacks (against Oregon State), but Jason was hurried and hit several times."
Neuheisel said he thinks Johnson has the ability to recover from his recent struggles.
"I think he's a very talented player; it looks like he's extremely well-coached," he said. "I know they're disappointed in the interceptions this past week, but for the most part, he seems to make good decisions and keep the ball away from the opponent. I think they've got a guy who understands his role in coach Mackovic's offense."
UA is close to falling out of bowl contention - the Wildcats will have to win three of their next five games to be eligible - but Mackovic said he hasn't given up on this team yet.
"When you sign on, you sign on for the whole season," he said. "It doesn't mean that everything is going to go your way, but you have to show up and get ready to go. Our seniors still want to get something out of the season. We have a lot of work to do, and I still believe that we can get to a bowl game."