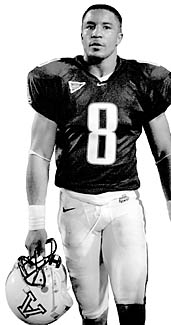 Michael Jolivette
UA sophomore cornerback
By Maxx Wolfson
---
ARIZONA DAILY WILDCAT
Friday October 26, 2001
Both USC and UA look to remain in the bowl game hunt
The UA football team is hoping that having players' families in the crowd will bring them luck. It did last year.
If that logic holds true, then Arizona (3-4 overall, 0-4 Pacific 10 Conference) is in good shape tomorrow afternoon against Southern California (2-4 overall, 1-3 Pac-10) at Arizona Stadium.
Last year's 53-47 victory against Washington State on Oct. 14 - 2000's Family Weekend - was also the last time the Wildcats won a conference game.
UA players expect at least 170 of their family members to be at the game tomorrow.
With only four games remaining and hopes of making a bowl game looking slimmer with each loss, both head coaches, USC's Pete Carroll and UA's John Mackovic, consider this game a must-win.
"I'm sure (Arizona) is very disappointed, and we are as well," said Carroll about each team's record. "This is a must-win situation for us so we can move ahead and get back to making progress."
"(USC) has played a good, hard schedule," Mackovic said. "They have played good teams. They have a new coach and a new system, so things are changing there much like we are here. They lost three really tough games, games they could have won, and they were right in them until the end."
This comes from two teams who have spent time in the spotlight. Now, both have entered the rebuilding phase, even if they won't admit it.
USC has been known as a football powerhouse for years and some skeptics say their recent struggles might tarnish their tradition.
The Trojans are on pace for their second-straight losing season, and their 2-5 start is their worst since 1957, when the team began 1-6.
"You come to USC to win a championship and I'm going to be disappointed whenever that is not the outcome," Carroll said. "Regardless of the bowl or ranking - it's about championship seasons."
On the other side of the field, the Wildcats are looking to earn a bowl berth for the first time since 1999.
UA junior quarterback Jason Johnson said he still feels the Wildcats' goal for the rest of the season is making it to a bowl game.
"We feel that we can play with anyone if we do what it takes to win," Johnson said. "I sat here last week (before UA's 31-28 loss to Washington) and I said if we can run the ball and stop their run, it's going to be a great game. We did that."
If that is what it's going to take for Arizona to be competitive tomorrow, they might be in good shape.
USC junior tailback Sultan McCullough is listed as doubtful for the game with an abdominal strain, which will put more pressure on USC senior quarterback Carson Palmer. The strong-armed quarterback threw three interceptions - two to sophomore cornerback Michael Jolivette - in last year's loss.
Arizona held the Trojans to only 10 net yards rushing in last year's game.
When the Wildcats have the ball, they might use the same strategy Kansas State used when they beat the Trojans 10-6 back in September. KSU tailback Josh Scobey carried the ball 27 times for 165 yards.
Carroll said he is worried about UA sophomore tailback Clarence Farmer and called the Houston native the best back USC has seen this season.
"He looks like so many big-time backs that you have seen in the past (with) his ability to run, his moves, and his ability to be tough and not go down," Carroll said. "We are going to have to play situation defense when he's in the game. We'll have to really load it up and keep him from getting out."
If Farmer can move the ball on the Trojan defensive front, it might help open up the passing game for junior quarterback Jason Johnson, who will have to throw against a team that already has more interceptions (8) this year than they had all of last season.
The Wildcats' offensive line will have to do a better job of blocking, after Johnson missed the second half of last week's game against Washington with a concussion.
If they don't, Johnson might be sitting on the sideline again, watching the game along with 170 family members and - worse yet - the result might be the same as the Washington game.