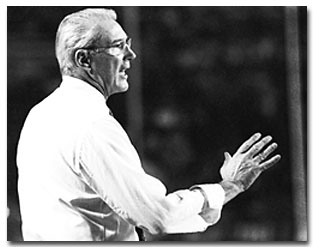 John Mackovic
By Maxx Wolfson
---
ARIZONA DAILY WILDCAT
Friday November 2, 2001
Cal and UA looking for first conference victory
The good news is that one team has to win in tomorrow afternoon's game between Arizona and California. The bad news is it will only be the first win for either team in conference play this season.
Both Cal and UA have yet to beat a Pacific 10 Conference opponent this season, and even worse, the Golden Bears (0-7 overall, 0-5 in the Pac-10) have yet to win a game.
Arizona (3-5 overall, 0-5 in the Pac-10) has a record of its own to prevent this week - trying not to tie its worst league record in the history of the program. The Wildcats went 2-3-3 in 1987.
The Wildcats are favored for the first time since conference play began, but UA players and coaches are not taking this game lightly.
"We can't take anything for granted because we haven't played well enough to take anything for granted," UA head coach John Mackovic said. "Our backs are against the wall, especially if we want to go to a bowl game. It can be done, and we are going to find out how much we want it. We have to go out there and compete."
UA senior safety Jarvie Worcester agreed.
"I don't think that's the case with us," he said. "We're 3-5 and haven't won a Pac-10 game yet this year, so we're going to gear up and do whatever's necessary."
The Wildcats will have to win their next three games if they are to remain bowl eligible.
"Going to a bowl game is a dream and a goal for all of our players, but the fact is that if we don't get it done this week that's mathematically impossible," UA quarterback Jason Johnson said.
Despite losing its last five games, UA has improved the margin of each loss. In the first three loses - to No. 16 Washington State, No. 8 Oregon and Oregon State - UA lost by a combined 90 points.
In the last two, however, UA cut that margin to only 10 points against No. 11 Washington and USC.
"The defense in the last two games has done predominantly what we needed for it to do to put us in position to win the game," Mackovic said. "The defense played with more energy and enthusiasm. We missed some tackles, and we didn't charge on some blitzes as hard as we should have, but we definitely are making some strides."
It has been the UA offense that has been inconsistent of late. They have coughed the ball up six times in two games, and Johnson threw four interceptions against the Trojans.
Arizona will have to take better care of the ball to keep a banged-up defense off the field.
The UA defense gets a break this week because Cal's best offensive threat, Joe Igber, is out for the season after breaking his right clavicle against Oregon State last week.
That leaves the running duties to freshman Terrell Williams. He rushed for 104 yards on 26 carries in the loss to OSU last week.
Despite the injuries to the Golden Bear offensive, Mackovic said he is worried about the problems his defense will face.
"They attack the defenses with formations and ideas as well as anyone," Mackovic said. "They had the single best offensive game plan against Washington of anyone that I have seen. Everything they had was clicking, and it worked. Most of the plays were big-play passes. They had long and short passes, tight end screens over the middle and fake screens to the outside. They set it all up just beautifully."
Cal head coach Tom Holmoe, who has dealt with rumors of his impending dismissal all season, is well aware of the Wildcats' talent on defense. He said that sophomore wide receiver Michael Jolivette has been one of the premier players in the conference this season.
"On the defensive side of the ball, they don't have a (Chris) McAlister, but Michael Jolivette is a pretty good player," Holmoe said. "He's got five interceptions in just seven games, and he was like that last year."
Mackovic is also no stranger to the Cal defense. In his three years in the booth at ESPN, Mackovic said that he had the chance to follow the Bears and really liked what he saw.
"They have played hard every week," he said. "They are playing hard all of the time, regardless of the score, and that is a salute to their players and coaches. Cal is much closer to having a good football team than anyone can appreciate right now. They have done a lot of good things."
Because of that, Mackovic said his team better not approach Cal lightly, despite Cal's record.
"From our standpoint, if we approach the game as if it may be any less of a contest or battle than it is going to be, it is very likely that we will wind up being the most sorry for that," Mackovic said. "Cal is capable of beating almost anyone in the conference. They might not match up as well against one or two of the very best teams, but after that, they match up well with anybody."