Seniors say farewell on homecoming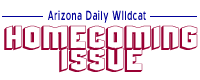 Friday November 9, 2001

Stanford heads to Arizona for final home game of season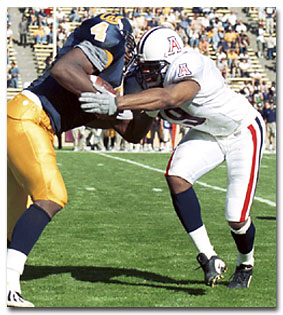 KEVIN KLAUS/Arizona Daily Wildcat
Senior strong safety Brandon Nash wraps up California senior tailback Marcus Fields in UA's 38-24 win Saturday. Nash and his fellow seniors play their final game at Arizona Stadium tomorrow at 5 p.m.
Alex Luna won't forget tomorrow night's game against Stanford.
It will be the last time the senior defensive end makes the walk across the street from the locker room inside McKale Center to the field at Arizona Stadium.
It will be the last time he runs through the tunnel with the UA band blasting "Bear Down, Arizona" in front of thousands of screaming UA faithful.
It will be the last time he ever puts on a blue Arizona jersey in front of his home fans.
"It will be hard for me," the defensive end said. "This has been like a second family to me. It will be hard leaving."
A week after netting their first Pacific 10 Conference victory, Luna and the rest of the Wildcats will have their hands full tomorrow afternoon against No. 16 Stanford.
Arizona (4-5 overall, 1-5 Pac-10) will have more motivation than just winning for its seniors - the team is playing for bowl eligibility.
If UA loses, it will mark the third-consecutive season the Wildcats have not reached a bowl game.
"November is the month that is the most critical," UA head coach John Mackovic said. "We are playing for an undefeated November, and we need to have that happen in order for us to become bowl eligible. If we can win the last two games, we also have to prove to the bowl people that we are a worthy team and that we can go out and play terrific football."
The Wildcats are coming off their most productive game since conference play began.
Several players posted career bests last week in the 38-24 victory against California. Junior quarterback Jason Johnson passed for a career-high 315 yards, junior wide receiver Bobby Wade tied a school record with three touchdowns and seven different defensive players had a total of eight sacks - one shy of the school record.
However, Stanford is not 0-8 like the Golden Bears were.
Stanford (5-2 overall, 4-2 in the Pac-10) was ranked No. 6 in the Bowl Championship Series poll as recently as a week ago, but after a 42-28 loss to Washington, it slipped five spots.
The Cardinal will be without several key players - senior quarterback Randy Fasani, junior tailback Kerry Carter, senior safety Simba Hodari and senior defensive lineman Austin Lee tomorrow.
Sophomore Chris Lewis will play quarterback for the third-straight week since Fasani was sidelined with a knee injury.
In those games, Lewis completed 51 of 89 passes for 670 yards and five touchdowns.
Coincidentally, he made his first career start against Arizona last year. His inexperience showed then, as the Cardinal lost to the Wildcats, 27-3. But the UA expects him to be a little better this time around.
"Lewis is a lot better of a player now," Mackovic said. "He was kind of thrown into the mix last year. He has had all season to prepare this time."
Stanford head coach Tyrone Willingham said he is well aware of the problems that the Arizona defense can cause his young quarterback.
"They have done a great job with (the double-eagle flex) defense and made it almost patented," Willingham said. "That program has done a great job with that and the school has a great deal of confidence in it. It is a great scheme and it stretches you."
Arizona fans will see 10 seniors - senior safeties Brandon Nash and Zaharius Johnson, defensive tackle Anthony Thomas, linebacker Shelton Ross, cornerbacks Jermaine Chatman and Anthony Banks, and defensive ends Johnny Jackson, Austin Uku, Eli Wnek and Luna - start or see a significant amount of action on defense for the last time tomorrow.
Offensive linemen Makoa Freitas, Kevin Barry and Steven Grace, wide receivers Malosi Leonard and Brandon Marshall and junior running back Leo Mills - who will likely lose his eligibility after this season because he didn't meet the NCAA's partial-qualifier requirements - will all play in their final home contest.
"They are going to remember their last game forever," Mackovic said. "This is a game where it doesn't matter what the score is or how the season goes. That's the last game in the stadium. Your stadium. We're going to a recognition ceremony during our pre-game warm-ups. Hopefully, if not all, the parents will come. It's always significant."