Friday November 9, 2001

Leonard brothers will compete for the last time tomorrow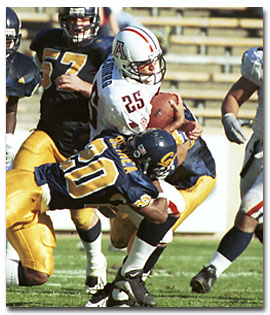 KEVIN KLAUS/Arizona Daily Wildcat
UA senior wideout Malosi Leonard
Teri Leonard has a decision to make: which jersey to wear tomorrow.
The decision might be difficult, because she has a son on each team in Saturday's football game between Stanford and Arizona: UA senior wide receiver Malosi and Stanford junior defensive lineman Matt Leonard.
"It will be very exciting," Teri said. "I'm going to wear Malosi's jersey because it's his senior year, but Matt's senior year is next. I'm going to sit with the Arizona fans. Maybe I will have a little Stanford pin on or something like that."
Despite sitting on competing sidelines tomorrow, big brother Malosi says he and Matt are close.
"We have always been the best of friends," Malosi Leonard said. "Since we have been to college, we have done a little more trash-talking than when we were younger. Especially if he is having a good year, he will call me up and say, 'Hey, how's it going? Nice game.' It's fun."
On the field, however, the two brothers play on different sides of the ball - Matt anchors one of the best defensive lines in the country, and Malosi is one of UA quarterback Jason Johnson's favorite targets.
One can only imagine what the Leonard family football games are like.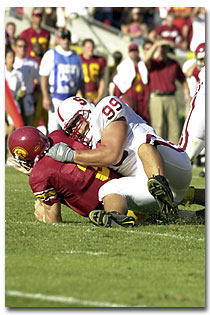 Associated Press
Stanford defensive lineman Matt Leonard
Malosi checks in at 6-foot-2 and 212 pounds, while younger brother Matt weighs in at 6-foot-4 and 290 pounds.
"They have been competitive, but in a very friendly way," Teri said. "They have always been very close. When people talk about sibling rivalry, they have had arguments, but Malosi is the peacemaker. He always shares, and he always took care of his brother, so there was never any of that arguing. As far as athleticism, of course, there is that healthy, friendly competition."
In Stanford, Calif., Matt Leonard missed the last three games because of back spasms, but could be back in the lineup this week.
"We have been without Matt for the past couple of weeks and that has been another fatal loss to our defensive scheme," Stanford head coach Tyrone Willingham said. "We're hoping that at some point that he will return and that it's sooner than later."
In Tucson, Malosi Leonard has had the most productive season of his career.
The senior has started every game this year for the Wildcats, and is second on the team in receptions with 35 - a new career high.
"Malosi had a good game (against California)," UA head coach John Mackovic said. "He is real smart and has always been able to learn everything. He is a little bit of a cut-up. He keeps the guys loose. He is not afraid to do a little skip here and there to try to break the ice. He is always on time and always does what he is asked to do."
UA freshman quarterback John Rattay agreed.
"Malosi is one our most consistent receivers," Rattay said. "He catches everything you throw at him."
When they are not training for football, both Leonard brothers spend their summers helping their father do stunt work.
Matt Leonard appeared as an extra in the movie "Die Hard: With a Vengeance," while his mother was a stunt person in the movie.
With Stanford ranked No. 16 and Arizona carrying a lone conference victory, the Leonard brothers have experienced very different seasons.
"I think Malosi is very proud of his brother and the year Stanford is having," Teri said. "Malosi had his year (1998) when Arizona went to the Holiday Bowl and defeated Nebraska, and Stanford didn't do well that year. The next year Stanford went to the Rose Bowl. So they have almost rotated. Last year Arizona beat Stanford, and the year before that, Stanford beat Arizona. So actually each year it's been strangely even. One team is doing well and one team is doing not as good."
That could be a bad sign for Arizona, because if the pattern holds true, it looks to be the Cardinal's year in the last meeting between the two brothers.
"I don't want that to be the case," Malosi said. "I still have to play hard even though it's my little brother."
Mom said she doesn't know which team will get the victory in what has become an annual event.
"We'll see (tomorrow)," she said. "It could go with the pattern or it could break the pattern."