Friday November 9, 2001

Chris Jackson

Chris Jackson
Stanford-Arizona
When I worked at the Wildcat, I had the opportunity to cover the Arizona football team for two straight seasons. I liked to call them the agony (1999 - 6-6 flop) and the ecstasy (1998 - 12-1 uber-season). Unfortunately, this year's Wildcats bear a much stronger resemblance to the 1999 team, and even worse, this year's Cardinal is acting an awful lot like the 1999 version as well. Enjoy the deja vu, alumni.
Stanford 50, Arizona 22
Oregon-UCLA
"Sometimes I park in handicapped spaces, while handicapped people make handicapped faces; I'm an a**hole!" sang Denis Leary. You got to wonder if ex-Bruin QB Cade McNown had that song in his head when he was handing the ball off to then-freshman DeShaun Foster. Well, Foster has now also screwed up with an automobile, borrowing someone's SUV when he shouldn't have, and as a result, he's suspended for this game. D'oh.
Oregon 27, UCLA 10
Texas A&M-Oklahoma
While I was in college, I went to Mardi Gras with the A&M lacrosse team, as my best friend was an Aggie, and they were a really cool bunch of guys. Watching snippets of ESPN's "Sidelines" makes the Aggie football players look like a cool bunch of guys. Watching game film from last week's A&M loss to Texas Tech makes it look like the Sooners are going to be whuppin' on the Aggies worse than their fans got beat up by those angry drunkards in Lubbock.
Oklahoma 38, Texas A&M 13
Kansas State-Nebraska
Thousands of Midwesterners will pile into Nebraska's stadium this weekend, mainly because there's nothing else to do in Nebraska. Seriously, what else is there to do out on the Great Plains? Watch the wheat grow? Try to find the secret cloning facility where the Huskers' corn-fed behemoth linemen are grown? Anger UA journalism professor and NU fan Jim Patten, who's probably wondering right now why he let me graduate.
Nebraska 45, Kansas State 21
Miami-Boston College
Unfortunately for the Eagles, Doug Flutie now plays for the Chargers, which is very fortunate for current Wildcat editor-in-chief and San Diego-native Ryan Finley. I hired Finley at the Cat back in the day, and I just wanted to take a moment and say how proud I am of him in all that he's accomplished. Actually, I really couldn't think of a joke to go with this game, except the final score.
Miami 57, Boston College 3
---
Dan Rosen

Dan Rosen
Stanford at Arizona
Upon my return to the temperate climate of this town filled with luscious green trees, I noticed subtle (yeah right) differences. The Mall is gone, the hole in the ground has been filled, the Buffet has a slightly superior tasting hot dog steaming out of the crock pot behind Peggy, and the football team is just a speck worse than it customarily is at this time. Is Dick Tomey coming back for Homecoming?
Stanford 42, Arizona 24
Oregon-UCLA
Only few things disgust me more than watching UCLA and those awful baby blues: Pepto Bismol, Natural Light, anyone who doesn't go to the Buffet and Oregon's uniforms. They ain't stylin' or profilin', and Stuart Scott undoubtedly doesn't approve. It looks like the puke Cade McNown coughed up on the 50-yard line in a 1998 game. Anybody remember that loser?
UCLA 27, Oregon 21
Texas A&M-Oklahoma
Has anyone seen that "Sidelines" show on ESPN? Really, are they joking with that reality crap? Like I want to see what some Aggie has in store for his thrilling evening in College Station, or what some Texan thinks about drunk chicks. Didn't they watch "Girls Gone Wild" like the rest of us? Sorry, you lose.
Oklahoma 34, Texas A&M 13
Kansas State-Nebraska
How do you earn a black shirt at Nebraska? Do you have to be a 6-foot-5, 250-pound, chiseled machine that majors in leisure studies? On that note, does this game really matter? K-State is gunning for a bowl berth, but not today, not in the third largest city in Nebraska, not with Lee Corso clad in red with an ear of corn on his head.
Nebraska 54, K-State 14
Miami-Boston College
If this were Rutgers against Boston College, the Eagles would stand a chance. How do you lose 80-7 to WEST VIRGINIA? Freakin' WEST VIRGINIA. Was I watching the same highlights everyone else was, or was I the only one watching? Since Miami has beaten the Scarlet Knights, and BC hasn't faced them yet, the edge must go to the Canes.
Miami 45, Boston College 7
---
Bryan 'B-Train' Rosenbaum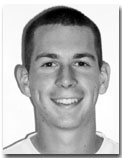 Bryan Rosenbaum
Stanford-Arizona
Oh, how I yearn for the days of UA WR great Theopolis "T" Bell, by far the coolest name ever for an All-American. Unfortunately, most people invading Tucson this weekend are over-the-hill ex-fratboys yearning to drink like they did when T-Bell caught TDs here in 1975. It ain't happening, fellas! Kids - don't let Dad and Uncle invade your favorite bar!
Stanford 51, Arizona 24
Oregon-UCLA
UO marketing people stormed into my Pasadena apartment and plastered the walls with posters of Joey Heisman and then had the nerve to pay me $250! So much for L.A. being the home of champions - after the Lakers and Sparks won it all, my beloved Galaxy and now UCLA have choked down the wire. Here we go Clippers, here we go!
Oregon 42, UCLA 38
Texas A&M-Oklahoma
If this was in College Station, we would be inundated with images of wannabe soldiers and all the fake military crap A&M offers. Whooop! Being that this is in Norman, OU will benefit from a homer timekeeper (No, I'm not bitter, MSU) and send the Aggies home before the ROTC drills start at sunrise.
Oklahoma 16, Texas A&M 14
Kansas State-Nebraska
You could be mistaken for thinking the Big XII had only 5 teams, as they seemingly play each other every week. Whatever happened to the Baylor Bears? Hit-or-miss K-State will have a similar reaction to facing Nebraska as former-Cowboy Nate Newton had with the cops after possessing 213 lbs. of marijuana - check for soiled underpants!
Nebraska 31, Kansas State 17
Miami-Boston College
Bust out those "Catholics vs. Convicts" T-shirts of yesteryear as the Hurricanes, who proved destroying weak teams gets you in the passing lane on the Road to Pasadena, battle the · somethings of BC. History tells us that BC can pull off the upset - witness UNC in hoops in '94 and ND in football in '93 - but it will be tough without William Green. Go·Eagles.
Boston College 23, Miami 21
---
Brett Erickson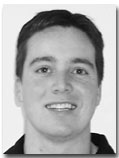 Brett Erickson
Stanford-Arizona
First things first. All undergrads, pay close attention to graduation requirements. Counselors are DEAD serious when they say you won't graduate until you finish ALL of your requirements. OK, on to the game. It's hard to pick against the school that produced John Elway, especially when it's going against a UA defense that at times looks promising, but at times looks straight-outta-WAC. But Arizona needs a win in order to build drama for the ASU-UA game.
Arizona 34, Stanford 31.
Oregon-UCLA
It gets easier to hate UCLA every year. First, their football players parked in handicapped spots a few years back, and now DeShaun Foster gets busted rollin' in a new SUV. And to top it off, they're from Los Angeles, a city whose residents have as much plastic in their bodies as they do in their wallets.
Oregon 27, UCLA 17
Texas A&M-Oklahoma
Let's break this down. Texas A & M - Agriculture and Mining. Students that are known for their advanced horticulture techniques are supposed to take on what will become the premier team of this decade? Maybe if they were facing off in the local Skoal spit-off, but not on a football field tomorrow in Norman.
Oklahoma 24, A&M 17
Kansas State-Nebraska
Nebraska's theme song: "Where the girls are the fairest and the guys are the squarest . . ." Being engaged, I decline to comment on the quality of Nebraska women. And I'm not too sure about the guys being the "squarest" either, but I do know they've eaten lots of corn, they know how to open holes for the running game, and they can resist arrest with the best of them.
Nebraska 41, Kansas State 17
Miami-Boston College
What would be sweeter than the 'Canes getting left out of a National Championship game for the second straight year? (The Yankees losing the World Series is the only possible answer to that question.) But against weaker teams like BC, Miami out-thugs their opponents, which they will do again this weekend.
Miami 52, Boston College 10