'Tunnel of Oppression' puts students in real-life situations

Thursday November 15, 2001

Program challenges students to act differently in face of diversity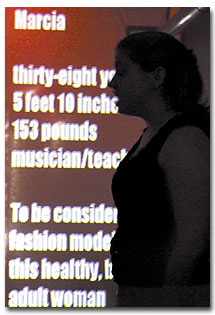 JON HELGASON/Arizona Daily Wildcat
Psychology junior Karen Hogan acts out a skit where she contemplates inducing vomiting to control her weight, at the "Tunnel of Oppression" Tuesday night. The skits, which ended last night, were intended to inform students about people who are oppressed.
A verbal assault on a student of Middle Eastern descent and a female student forcing herself to throw up were just two of the scenes students were faced with Tuesday night in the lobby of Kaibab-Huachuca Residence Hall.
These scenarios, however, were just a few of the many situations recreated for the fourth annual "Tunnel of Oppression" at the University of Arizona.
The Tunnel of Oppression, created by Residence Life's El Mundo Diversity Committee, is a program designed to challenge people's thoughts, perceptions and inner feelings about oppression and hatred.
The tunnel, which is set up throughout the Kaibab-Huachuca Residence Hall, 940 E. Fourth St., features a walking, multimedia tour that stops at different staged disputes and demonstrations meant to challenge the person's previous beliefs about oppression in society.
"I came away from it with a better understanding of minorities and oppression," said Ciara Dyer, a nutritional sciences freshman who experienced the tunnel on Tuesday night.
Throughout the tunnel, participants are presented with examples of sexism, racial profiling, body image and domestic abuse that they might be confronted with in real life.
While the experience is not meant to offend or bring about tension, organizers said the tunnel has a different effect on nearly every visitor who passes through.
Ayesha Rizvi, the hall director for Graham-Greenlee and Hopi residence halls, helped to "process" visitors as they finished the tunnel - a job that involved a group discussion of what participants learned through the experience. She also provided participants with information about what they could do if faced with an instance of oppression.
"Processing is so important," Rizvi said. "The tunnel is such a moving experience, and I really feel that it is necessary for some to talk about it."
Rizvi said she sees a broad spectrum of emotions from visitors after they exit. She said some people cry, some are angry and some remain unfazed.
"Many students are confident that oppression does not occur on campus, and that's a good thing," Rizvi said. "This simply gives them an opportunity to see what may be physically happening. The students must face it here, and they can't turn away. Reality really strikes them."
Brian Shimamoto, program coordinator for Multicultural Education and Advocacy for Residence Life, helped organize this year's tunnel. Though it is his first year at UA, Shimamoto said he already understands the importance of such a program to the campus community.
"This is an excellent program, which gives students the opportunity to experience the oppression that some (people) deal with all the time," Shimamoto said.
Likewise, Dyer said she felt the tunnel would be an important part of any college campus, but specifically here at UA.
"Oppression occurs almost everywhere. We have such a different mix of people on this campus. The Tunnel of Oppression is an eye-opener for a lot of people," she said. "Those who haven't been exposed to racism or oppression need to be aware of it."
Elizabeth Thompson, an undeclared freshman who also experienced the presentation Tuesday night, said she felt the program had the right intentions but did not convey them strongly enough.
"I thought that some of the presentations were really weak," she said. "I feel like the multimedia presentations were much more effective than the skits.
"Some things really did surprise me," she added, referring to a multimedia slide depicting the Web site of a young, white supremacist, "but I felt the presentation as a whole could be improved upon."
The Tunnel of Oppression involves about 50 student volunteers, including those who lead tours, arrange the multimedia presentations or act in skits. Faculty fellows and staff from Residence Life also participate each year. It takes this group of volunteers nearly two months to put together the program.
The Tunnel of Oppression is not unique to UA. Shimamoto helped direct a similar program at the University of Colorado-Boulder. The original program was developed at Western Illinois University in 1994 and was awarded "Program of the Year" in 1995 by the National Association of College and University Residence Halls. Similar programs are in place at both Arizona State University and Northern Arizona University.
The final showing of the Tunnel of Oppression is tonight from 6 p.m. to 9 p.m. at Kaibab-Huachuca Residence Hall.