By Brandon Johnson
Arizona Daily Wildcat
Wednesday Jan. 9, 2002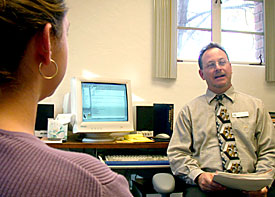 DAVID HARDEN/Arizona Daily Wildcat
Senior admissions counselor, David B. Goldberg, explains admission standards to physiology sophomore Rachel Dorsey, a student employee in the admissions center. Despite admission changes at other universities, UA still uses SAT scores to evaluate incoming students.
Other universities may reduce emphasis on the test
UA admissions officials say they have no plans to alter admissions criteria, even as several public university systems begin to search for alternatives to the SAT I.
Last fall, the University of California system, which includes nine public universities and the College Board, creators of the SAT I test, announced that they would begin working together to find an alternative to the SAT I as a standard for admissions to UC schools.
The announcement came after UC president Richard Atkinson announced that UC schools would consider dropping the SAT I as a requirement for admissions.
University of Oregon officials also announced recently that they will move from a system emphasizing the SAT to one that stresses state-implemented subject proficiency tests.
But the Arizona Board of Regents, which sets admissions standards for all three state universities, is not planning to make any changes to admissions policies, said Lori Goldman, UA director of admissions.
She added that the university plans to continue using its current standards - class rank, grade point average and SAT I or ACT score - as a measure of admissions.
Critics of the SAT I claim that it is biased against ethnic minorities and low-income students. In addition, they question its validity in measuring students' understanding of their high school curriculum.
Last year, the mean SAT score for UA freshmen was 1101. Minority students had a mean score of 1055, and non-minority students averaged 1117. In-state students are guaranteed admission if they score 1040 or higher.
"I don't think basing a student's admission on a standardized test of any kind is adequate," said Lynette Cook Francis, associate dean of students and director of multicultural programs.
She added that some students do not do as well on standardized tests even though they perform well when they get to college.
Francis said that downplaying the emphasis placed on the SAT I would benefit all students, not just minorities.
"There's too much emphasis on one test to get into college. A lot of people aren't good test takers," said ecology and evolutionary biology freshman Jason Jedinach.
Electrical engineering sophomore Eric Bette agreed.
"I think they should not rely so much on the SATs as a standard for admission because it doesn't reflect how well the student will do in college," he said.
He added that colleges should place more emphasis on the difficulty of high school courses, what high school applicants attended and what extracurricular activities they participated in.
No long-term plan for replacing the SAT I currently exists. Short-term plans include requiring more SAT II tests, which test specific subjects like foreign languages and history, as well as other curriculum based tests.
SAT officials are not in favor of the decision to lower the emphasis on the test and believe that their test is being unfairly attacked.
They argue that the difference in scores is a result of the education that many lower-class students receive and not because of biases within the exam itself.