By Connor Doyle
Arizona Daily Wildcat
Wednesday Jan. 9, 2002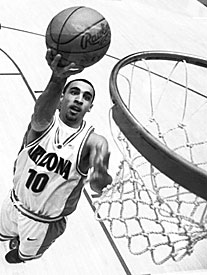 KEVIN KLAUS/Arizona Daily Wildcat
UA freshman guard Anas Fellah goes up for a layup during Sunday's game against Oregon State. The walk-on played a surprising 10 minutes and was credited with sparking the Wildcats' second-half comeback.
Walk-on sparks UA win against Oregon State
It's said that necessity breeds innovation.
That was certainly the case for No. 20 Arizona Sunday night in its 93-87 comeback victory over Oregon State.
Down 19 points with 3:27 left in the first half, head coach Lute Olson did the unthinkable: He put walk-on freshman guard Anas Fellah into the game in hopes that his quickness could help the Wildcats (9-4, 2-2 Pacific 10 Conference) defend Oregon State's quick perimeter players.
In the end, it could be said that Fellah - who played 10 minutes for the game - made the difference. Assistant coach Jim Rosborough certainly thought so.
"We don't win without him," he said. "Anas did a great job in tryouts. He's got good quickness, (he is a) very good athlete and he's a smart kid; he picks stuff up pretty quick. He's got some quickness, and that was the issue tonight."
Fellah's presence on the court gave the Wildcats four guards who could be on the floor at the same time, allowing them to run a full-court press in the second half.
The defensive change was seen as necessary, as Oregon State (8-6, 2-2) shot 76 percent from the field, including 8-11 from behind the arc - in the first half en route to a 17-point halftime lead. After the game, players and coaches alike expressed their disgust with the Wildcats' first-half effort.
"That was probably the poorest defense in Arizona basketball history," junior forward Rick Anderson, who scored nine points, said. "They shot 76 percent from the field, and we can't let that happen."
The tactic reaped benefits for the Wildcats. OSU shot 46 percent from the field in the second half. Arizona also benefited from the fast-break opportunities that arose from the faster-paced tempo of the game in the second half, shooting 57 percent for the period and taking advantage of the transitional opportunities afforded by the press.
"We're a fast-breaking team, and the more steals and rebounds we get the more easy buckets we get," junior point guard Jason Gardner, who scored a game-high 34 points, said. "Our game is to get up and down the floor, and that's what we did in the second half."
For a Wildcat team that rarely deviates from its standard man-to-man defense, the full-court press marked a possible change in Arizona's philosophy.
"I think we may (explore the full-court press), particularly if we have three guards in at the same time," Rosborough said. "There may be something to it. We work on it every day in practice."
Fellah recorded an assist and a steal in addition to two points off a breakaway layup. However, both players and coaches said after the game that Fellah's contributions weren't done justice by his box score.
Fellah said he was only trying to fire up the team.
"I just wanted to go out there and give them a spark," Fellah said. "It was frustrating watching them play that badly, and after playing against them every day in practice, I just wanted to go out there and give them a spark."
The Beavers built their first-half lead on the back of forward Brian Jackson, who scored 20 points on 7-of-8 shooting, including a perfect 3-of-3 from three-point territory. However, Jackson would only score one point in the second half and fouled out with 3:40 left in the game.
Freshman center Channing Frye continued his strong play, scoring 18 points and grabbing a team-high 11 rebounds.