By Jeff Lund
Arizona Daily Wildcat
Wednesday Jan. 9, 2002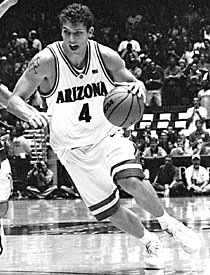 JON HELGASON/Arizona Daily Wildcat
UA junior forward Luke Walton handles the ball in a game earlier this season in McKale Center.
Forward to play Thursday at Washington State
Arizona head coach Lute Olson said the fate of his team would fall on a trio of juniors at the beginning of the season.
Then the trio became a duo when forward Luke Walton fell awkwardly on his ankle during a win over Pepperdine on Dec. 28.
Walton strained his Achilles' tendon late in the first half of the 94-71 win, and the injury forced him to miss games for the first time in his UA career.
Olson quickly learned the importance of each underclassman as Walton rested. Two of the three games during the forward's absence were decided by fewer than 10 points, with the third a blowout loss to conference foe Oregon.
All three games were against unranked opponents at McKale Center.
Associate head coach Jim Rosborough said Walton was often a rallying point both offensively and defensively for Arizona.
"The more I have seen (Walton) gone, the more I see that everyone feeds off of him," Rosborough said. "He does a good job of penetrating and feeding the post."
Walton returned to practice yesterday and was able to participate in numerous drills including limited full-court action.
"He is starting to do some drills and he says he feels great," Olson said. "There is no doubt that he will be ready (tomorrow)."
Walton said his recovery was frustrating at times, but he is ready to get back on the court.
"I've had all sorts of machines hooked up to my foot," Walton said. "That's all that's been on my mind: getting out there."
Walton averaged nearly a double-double per game before he was injured. His 12.0 points per game is the third-highest on the team, and his 7.6 rebounds and 5.2 assists through 10 games lead the team in each category.
The coaching staff said Walton's skill and experience on the floor speak louder than his statistics.
Rosborough reiterated Walton's importance as a leader.
"He is really a good leader," Rosborough said. "If we lose Jason (Gardner), it is a disaster. If we lose Ricky (Anderson), it is a disaster. For any of the guys it is the same. With Luke out it has just been a mess."
Rosborough said that in his estimation there was "no question" the outcome of the Oregon loss would have been different had Walton been able to play.
But his absence tested the young Wildcat front line and it played to the challenge.
Freshman center Channing Frye averaged 12 points and nearly 10 rebounds during Walton's absence. Both were four higher than Frye's regular season average.
Olson commended freshman Dennis Latimore for stepping up as well.
"He gave us some quality minutes this weekend from the defensive standpoint," Olson said. "You are seeing some good strides from the freshmen."
Rosborough said that although Walton will return tomorrow, his minutes will be limited and the team will need continued production from its reserves.
"Dennis (played on the perimeter) a little bit and did a nice job on (Oregon guard) Luke Jackson," Rosborough said. "(The freshmen) have all had their moments and will still play extensive minutes."