By Brian Penso
Arizona Daily Wildcat
Wednesday Jan. 9, 2002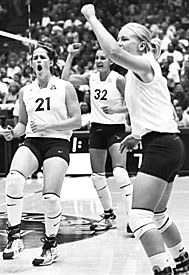 KEVIN KLAUS/Arizona Daily Wildcat
UA players (from left) Dana Burkholder, Jill Talbot and Rachel Williams celebrate a point earlier this season in McKale Center. The Wildcats made it to this season's Final Four in San Diego, Calif. for the first time in program history.
Wildcats fall to LBSU in semifinals
The dream of bringing home Arizona's first-ever women's volleyball national championship ended Dec. 13 in San Diego against top-ranked Long Beach State.
LBSU remained unbeaten for one more game as it handed the Wildcats a 3-0 (27-30, 25-30, 20-30) defeat.
The score, however, was not indicative of the match itself.
It was a match filled with four All-American seniors - setter Dana Burkholder and outside hitter Jill Talbot for Arizona and middle blocker Tayyiba Haneef and outside hitter Cheryl Weaver for Long Beach State.
The Forty Niners (33-0 overall) lost only six games all season prior to the UA match, without ever losing the first game.
UA head coach David Rubio said going into the game that winning the first game was going to be the key to the match.
"We were not intimidated by them," Rubio said. "We didn't play a very good match tonight, but a lot of that had to do with Long Beach State. The first game demonstrated that. We were very relaxed and focused. Internally, I told the coaches that winning the first match would be important. I really wanted to see how Long Beach State would respond to playing from behind, but that did not happen. We did not play well, and that's very disappointing for all of us."
The Wildcats (25-5) and LBSU battled in the first game, matching point for point.
UA junior outside hitter Shannon Torregrosa was a force in the first game as she tallied nine kills in 12 attempts.
However, that was not enough to overcome the Forty Niners' attack.
Haneef was too much for the Wildcats to handle.
The 6-foot-7 inch senior used her frame to tally seven kills, leading the Forty Niners to a 30-27 victory in the opening game.
Arizona also hurt itself in game one by committing five service errors, which turned out to be the difference in the first game.
LBSU came out strong in game two and jumped out to an early 1-5 lead.
Arizona got within two points on a number of occasions, but they were unable to muster together a consistent run to take the momentum from LBSU.
After losing the first two games and facing the end to their season, the Wildcats once again put themselves in a hole in the third game.
The Forty Niners continued to put the pressure on UA as they jumped out to an early 1-4 lead.
The Wildcats once again answered and they got as close as 13-15 before LBSU went on a 15-7 run to end the match and the Wildcats' dream of bringing home the school's first-ever women's volleyball national championship.
"We just couldn't get over the hump and take the reins in the match," Talbot said. "We couldn't get control. That was something we needed to do. We needed to jump on them, and that never really happened. That was unfortunate for us."
Rubio said the difference in the match was Arizona's inability to pass and serve effectively.
"I felt like we didn't pass very well. The first and second game we had our opportunities. We were just completely out of system."
On the other hand, Rubio said the Forty Niners passed extremely well, which led to their defense being very dominant.
"The better team usually wins, and that happened tonight," Rubio said. "They presented a lot of match-up problems for us. The one thing about Long Beach State, they ball-handled very well. Even when we were getting good swings, they defended very well."
The Forty Niners' defense held the Wildcats to a .213 hitting percentage, which is the third-lowest this season for Arizona.
The Wildcats were also unable to stop LBSU's tandem of Haneef and Weaver.
Haneef dominated the Wildcats with a match-high 21 kills on a .500 hitting percentage, marking the 29th time in 33 matches that Haneef finished with a double-digit kill effort.
"(Haneef) added a pretty good dimension," Burkholder said. "I think she just played incredible tonight. She dominated at the net and really put a lot of balls down tonight. When she was in the front row, their team was rolling right through us. If we could have passed better, we would have been able to get her out of her game. She just dominates out there."
Weaver added 10 kills on a .421 hitting percentage.
The Wildcats were led by Torregrosa, who finished the match with a team-high 14 kills.
LBSU was able to contain the rest of the Wildcat attack as Talbot and Rutledge were held to seven and eight kills, respectively.
Arizona's middle attack of senior Erin Sebbas and Saragosa combined for 19 kills against USC in its Elite Eight match, but were only able to muster together 11 kills between the two of them against LBSU.
For three UA starting seniors - Burkholder, Sebbas and Talbot - it marked the last time they would step on the floor as Wildcats.
Burkholder said she would not trade the experience she had this season for anything.
"This season has been a dream, even though we did not win it all," Burkholder said. "Our team has an incredible bond. This has by far been the best season of my life. It's been a privilege to be a part of this team and a part of this program. I'm so proud of this team making it to the Final Four for the first time in Arizona history."
Long Beach State's win streak was cut short two days after its win over UA, when Stanford swept the Forty Niners in the championship game to claim their fifth national title.