By Brian Penso
Arizona Daily Wildcat
Wednesday Jan. 9, 2002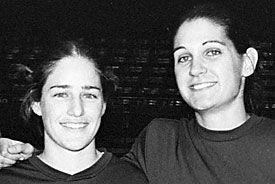 Associated Press
UA senior setter Dana Burkholder and senior opposite side hitter Jill Talbot pose after hearing they had been selected to the AVCA All-America team.
Talbot, Burkholder among nation's best
For the first time in school history, two UA volleyball players were named to the prestigious 12-player AVCA All-America team.
Senior Dana Burkholder claimed a spot on the team for the second consecutive year, and fellow senior Jill Talbot received the honor for the first time.
Burkholder finished second in the Pacific 10 Conference with a 13.07 assists per game average to go along with 1.55 kills and 2.49 digs per game. She also led Arizona to a .301 team hitting percentage, which was third in the Pac-10.
Talbot finished the year as the Pac-10's best hitter with a .426 hitting percentage.
Burkholder's achievements the past two seasons put her on the long list of Arizona athletes who have earned at least two All-America honors in their career.
The list includes Arizona Hall of Fame student-athletes Sean Elliot, Amy Chellevoid and Annika Sorenstam.
"My four years have been awesome," Burkholder said. "I have grown so much as a person and player. Just learning about teamwork is one of the most important things that I learned."
Burkholder came to Arizona four years ago as one of the nation's top high-school setters and she leaves as the most prolific setter in UA history.
"I came in as a star athlete and I developed in a team and learned how to lead a team," Burkholder said. "It has been incredible. Getting to the Final Four has been great, and I am glad that a foundation for Arizona volleyball has been established."
Arizona junior middle blocker Stefani Saragosa said replacing Burkholder will be an impossible task to accomplish next season.
"Dana Burkholder is an irreplaceable player who is one of the great players to play the sport," Saragosa said. "It is going to be hard to fill her shoes. We will have to come together to move on. She is going to leave a legacy for setting at Arizona forever."
UA head coach David Rubio said the importance of Burkholder will not be seen until the team takes the floor without her next season.
"Everything is centered around Dana," Rubio said. "I told my fellow coaches to count the number of times next season that I say 'Dana would have gotten to that ball.' It will be a tough order, but I think this team will be up for the challenge."
On the other hand, the road to national recognition has been a long one for Talbot.
Coming into the season, Rubio said Talbot is one of the best outside hitters in the country.
However, Talbot was never recognized nationally for her abilities in her first three seasons at UA.
"Jill is amazing." Burkholder said. She has improved so much over the past four years. She came in as an athletic athlete and she has come out as an All-American volleyball player. That says a lot about Dave and Jill and their work ethic. Jill is a fighter, and she is on top of her game right now. She is one of the most amazing hitters I have ever seen."
Saragosa said Talbot's team-first attitude will be most memorable by players, coaches and fans.
"Jill is one of the rocks on our team," Saragosa said. "She has been consistent and so unbelievable, (always ) giving and never taking. She will leave behind that fact that individual accolades mean nothing if you don't have a team. She is great in commanding respect from people. I am so proud she finally was recognized for what she does on an everyday basis."
Talbot said that her four years at Arizona have helped her develop into the person that she has become today.
"The old cliché that college is the best four years of your life is very true in my case. I have grown as an athlete and a person, and that experience has changed me. It has made me who I am, and I will take that with me. It has been a great ride."
Burkholder and Talbot both said they plan to play volleyball at the professional level.