By Staff and Wire Reports
Arizona Daily Wildcat
Wednesday Jan. 9, 2002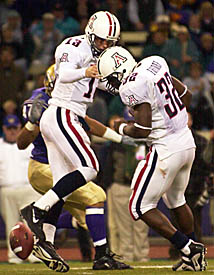 file photo/Arizona Daily Wildcat
Former UA quarterback John Rattay and sophomore running back Clarence Farmer watch as a fumbled ball hits the ground. Rattay announced his intentions to transfer to another school during the winter break.
Cats lose backups QBs Rattay, Watkins
Prior to the 2001 football season, UA head coach John Mackovic insisted that Jason Johnson be the Wildcats' quarterback.
Though it took about four months to convince backups John Rattay and Cliff Watkins, the two seem to have gotten the point.
Rattay and Watkins, reserves who saw limited action in the 2001 season, left UA at the end of the fall semester and will continue their college careers at other schools with the hope of more playing time.
And while Watkins has already enrolled at Tarleton State University, a Division II school in Stephenville, Texas, Rattay has yet to decide on his third school in one year.
Rattay, who has three years of eligibility remaining, transferred to Arizona from Tennessee without taking a snap for the Vols.
While many saw Rattay as the quarterback of the future, his stint in Tucson was as brief as it was uneventful.
The Phoenix native played in six games in the 2001 season, completing 27 of 59 passes for 385 yards and two touchdowns while throwing two interceptions. The majority of the freshman's playing time came in the Wildcats' 23-20 loss to Washington on Oct. 20. With Johnson out with a concussion, Rattay managed to complete 9 of 18 passes for 115 yards while rushing for a touchdown. Only a last-minute comeback by the Huskies prevented Rattay from notching his first college win.
Despite the transfers, Johnson - who will enter spring practice as the Wildcats' No. 1 quarterback - will still face formidable competition.
Nic Costa, a 5-foot-11 redshirt freshman from Aloha, Ore., and incoming freshman Ryan O'Hara could both compete for the starting spot.
---
Arizona added an all-state prospect Sunday night when Mackovic received an oral commitment from a Gilbert linebacker.
The Arizona Daily Star reported yesterday that Spencer Larsen, a linebacker/quarterback from Highland High School, chose the Wildcats over Boise State, Oregon State and Colorado State.
Larsen - who was named to The Arizona Republic's all-state team - joins punter Danny Baugher of Mountain Pointe High School in Phoenix and a pair of junior college transfers as the newest Wildcats.
Baugher committed last week, while a pair of junior college transfers - offensive lineman Matt Lamatsch and cornerback Luis Nunez - committed to the Wildcats on Dec. 19.
Both Lamatsch and Nunez have already enrolled in school and will be eligible to participate in spring practice.
Mackovic said Lamatsch, a transfer from Butler Community College in El Dorado, Kan., and Nunez, from Southwestern College in Chula Vista, Calif., should help the team's depth.
"The players we signed will give us immediate depth and experience, which is going to prove beneficial to our team," he said. "I am pleased that they can join us at mid-year, which will allow them to participate in spring practice and learn the system."
The Wildcats have the nation's ninth-best recruiting class, according to Rivals.com, an online football magazine.