By Daniel Scarpinato
Arizona Daily Wildcat
Friday Jan. 11, 2002

Businessman was an inspiration to community leaders, family and friends

One of UA's most prolific donors, Roy Drachman, died early yesterday morning. He was 95.

Drachman, a local real estate broker and legend in Tucson, donated a total of $3 million to the University of Arizona throughout his life.

"The fact that I have a love for the man is more because of his love for the people in the community," UA President Peter Likins said.

"I have found in Roy Drachman a commitment to community that you don't find in most people."

Likins said that Drachman saw the university as central to the vitality of Tucson and that he sought to forge a connection between the city and UA.

"He was actively involved in trying to bring the university and the business community together to attract other businesses," said UA Foundation President Richard Imwalle.

He also said Drachman's $1 million contribution to the university to fund the cancer center in the early 1980s proved to the community the importance of donating to UA.

"He served as an example of what could be done to assist the university," Imwalle said. "It all started with Roy."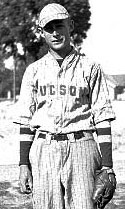 Photo credit UA Library.
Roy Drachman, a Tucson legend and UA benefactor, is shown here in a 1924 photo from when his Tucson High School baseball team won the state championship. Drachman, who died yesterday at the age of 96, donated more than $3 million to UA over the course of his life.
Later, he played a key role in the university's first capital campaign, which lasted from 1987 until 1992. He co-chaired that campaign and was significant in raising the $196 million it produced.
The UA athletic department recognized Drachman's contributions to the department by naming the track stadium after him. He was also a benefactor of numerous other university departments, most notably the Roy P. Drachman Institute for Land and Regional Development Studies.
When Likins kicked off UA's billion-dollar Campaign Arizona fund-raiser in 1997, Drachman again stepped in as a co-chair.
Likins learned quickly that Drachman was more than just a generous donor. "Most of Roy's personal philanthropy happened before I came to the university," Likins said. "He was 90 when I came, but he was always thoughtful and creative and he had a fertile mind."
John Drachman, a business junior at UA, is Roy Drachman's great-nephew. John Drachman developed a close relationship with his great-uncle in the final years of his life.
"He loved the U of A and was so happy for me to be attending school here," John Drachman said. "He would tell me about when he attended the university - his fraternity parties, pranks he and his friends pulled."
John Drachman grew up in California, but he said it was not until he moved to Tucson to attend UA that he learned of his great-uncle's legacy in the city.
Roy Drachman invited his great-nephew to join him at Tucson Country Club for lunch several times, and John Drachman was impressed by his great-uncle's down-to-earth demeanor.
"He was this outstanding person who had traveled around the world and met with presidents," John Drachman said. "But he treated his waiter with the same respect he treated Arizona Supreme Court Justices."
He said that despite his great-uncle's age, he worked full-time in the real estate business until three years ago.
Born in 1906 - six years before Arizona was a state - Roy Drachman represented a blending of Tucson's past with the future he envisioned.
He wrote two books about this life in Tucson, "This Is Not A Book: Just Memories" and "From Cowtown to Desert Metropolis: Ninety Years of Arizona Memories." In the books, Drachman chronicled nearly 100 years of growth in Tucson, and he was instrumental in many of those changes.
As a real estate tycoon, he influenced Major League Baseball teams to bring their spring training to Tucson. He was also involved in attracting Hughes Aircraft Co., now owned by Raytheon Co., to move to town in the early 1950s.
On Drachman's 95th birthday last year, Likins surprised him with an announcement that the university would build the $30 million Drachman Hall - a gateway from the UA campus to the Arizona Health Science Center. The structure is funded by donations from people who want to express their appreciation for Drachman.
"He was a man who had an outstanding character, a man of his word, a man who was interested in what others were doing.," Imwalle said. "He was interested in the growth and vitality of this community and of this university, and he was just a warm and caring person."