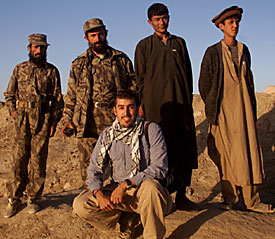 Photo courtesy of Seattle Post-Intelligencer

UA and Daily Wildcat alumnus Josh Trujillo poses with a group of soldiers during the war in Afghanistan. Trujillo, a 2001 graduate, recently returned from spending 10 weeks photographing the fighting for the Seattle Post-Intelligencer.

By Arek Sarkissian II
Arizona Daily Wildcat
Friday Jan. 11, 2002

Experiences in Tucson teach him to be cautious

For viewers in the United States, the war in Afghanistan has been a nonstop barrage of images depicting the events as they unfolded.

But one University of Arizona alumnus endured 10 weeks of bombing, bullet-dodging and stress as he worked to send those images from the war-torn nation back to America.

Seattle Post-Intelligencer photographer Joshua Trujillo, a 2001 UA graduate, was offered an assignment in Afghanistan with a team of reporters and photographers to cover the unfolding war against Taliban and al-Qaida forces.

It was an offer Trujillo couldn't refuse.

"I begged to go," he said. "I pretty much asked people if I could go."

Trujillo said that although he learned a lot, the stress of being a photographer in the middle of a war pushed him and other journalists to the limit.

"People (in the United States) don't realize what people at the other end are doing to get the stories out," he said.

Trujillo, a former photographer for the Arizona Daily Wildcat, said he was very cautious while he and other journalists were led by northern alliance soldiers. He said he learned to be careful from his experience in covering events in Tucson.

"I learned from the Fourth Avenue riots," he said. "I thought a lot about that while I was there."

Trujillo was shot in the leg with a rubber bullet as he was covering the riots that occurred on North Fourth Avenue after Arizona lost to Duke in the NCAA championship last April.

"I was aware they weren't firing rubber or plastic bullets when I was there," he said.

He said that sometimes while being caught in the cross fire between rebel and Taliban soldiers, he could actually hear the bullets whizzing overhead.

"You could hear a cracking sound as (the bullets) went overhead," he said.

He said the cracking sound was from the bullets traveling faster than the speed of sound.

Trujillo traveled through Afghanistan, from the rural outskirts to the city of Kabul - a city Trujillo described as modern compared to surrounding areas.

He said he spent some nights sleeping in fields under the stars or perhaps in a trench under a tank.

Nights in Kabul, however, were spent sleeping in the former Indonesian embassy, which was previously occupied by al-Qaida soldiers.

The former embassy was a treasure trove of items left behind by enemy soldiers, including CDs, DVDs and even a computer that was left behind by the fleeing forces.

"I was able to take some (CDs) home with me and I did a presentation here in Seattle," he said.

Ten minutes after his presentation, the FBI called Trujillo to ask for copies.

Trujillo said he also met many Taliban soldiers, including one prisoner of war he met in a jail.

"He told me how much he hated Americans and how he would give his own life to kill one," he said. "I asked him if he had even met one and he said that he hadn't."

Trujillo said that for the most part, the people of the country were very hospitable.

"They were very helpful, but I was still very cautious because the sense of loyalty was not always the same we have here," he said. "They're opportunists."

He said most men under 22 who live in rural Afghanistan know how to operate a machine gun.

"In the rural part, (of the country), it's a powder keg," he said. "Everyone is armed."

Trujillo's former professors agreed that a battlefield can be a difficult place for journalists fresh out of college.

"You not only put yourself in danger, but others," said Jacqueline Sharkey, journalism department chairwoman.

But for Trujillo, his four years in the United States Air Force - along with his long list of experience in photography - tailored him for the job.

"Josh is street smart, and he was in the military, " said William F. Greer, journalism professor. "That would be terrible if you sent someone who wasn't street smart."

Trujillo returned to the United States on Dec. 9. and then went to his home town of Santa Fe, N.M., to be with his family for Christmas.

"If you notice, a lot of the news coverage over there has dimmed down - it's because a lot of the journalists went home," he said.

Trujillo said he would go back if he had the opportunity.

Trujillo's images of the war in Afghanistan can be viewed at www.seattle-pi.com.