New kids on the block

By Kristina Dunham
Arizona Daily Wildcat
Monday August 26, 2002


Wednesday morning, residence halls opened their doors and instantly the lazy calm of summer was shattered.

The recently vacant parking lots filled to capacity and students began to move in. Most weren't forced to make the transition into college alone.

Where there was a new student there was almost inevitably a cluster of family and friends lending their services as baggage carriers and givers of emotional support.

Also on-hand to assist, were those seasoned students who remember what it was like to move into a dorm for the first time on a scorching August day.

These students, recognized by their bright red shirts, were volunteers for the HI team, formally known as the Hall Involvement team. With all the extra help, students were well on their way to settling in.

Now all that's left is getting organized and that little thing called class.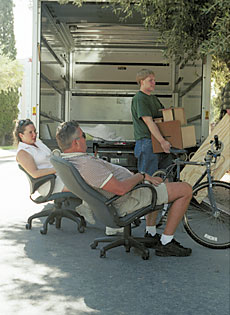 EMILY REID/Arizona Daily Wildcat
Political science sophomore Jeremy Bintz unloads his belongings as his mother, Brenda Safran, and family friend, Jim Roberts look on.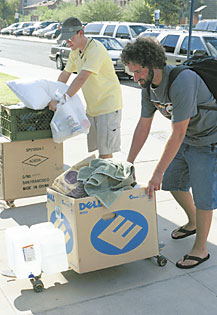 EMILY REID/Arizona Daily Wildcat
Undeclared freshman, Stuart Wood, left, and mechanical engineering freshman, Erik Matter, use skateboards to shuttle boxes from their truck to their Graham-Greenlee Residence Hall room Thursday afternoon.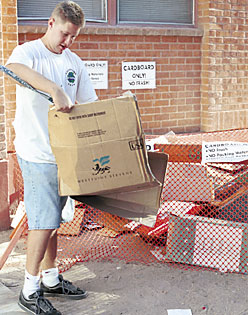 EMILY REID/Arizona Daily Wildcat
Spanish and environmental science senior, BJ Cordova, breaks down boxes left behind by students moving into the Apache-Santa Cruz resident hall. Cordova was working as a volunteer for UA's recycling office.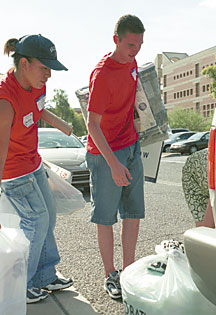 EMILY REID/Arizona Daily Wildcat
Hall Involvement team volunteers Charlene Parrish and Philip Clelland help carry a new resident's belongings into Graham-Greenlee.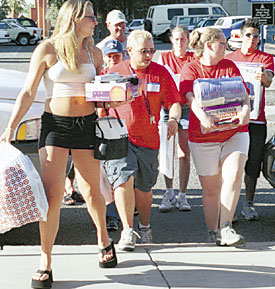 EMILY REID/Arizona Daily Wildcat
Pre-business freshman Chelsye Wika, gets help moving into Graham-Greenlee from the Hall Involvement, or "Hi team." The team was available on all move-in days to act as a welcoming committee, helping dorm residents with their belongings and making them feel more at home.